San Francisco & San Jose to Las Vegas – Drive Time, Distance & Directions
By Steve Beauregard
Although there are a few casinos by San Francisco, (4 within 100 miles to be exact), nothing can replicate the excitement of a road trip to Las Vegas.
But for Bay-area residents, that can be quite a long road trip.
In fact, it's 565 miles (or 909 kilometers) from San Francisco to Las Vegas via the fastest driving route. Typically it would take you between 8 to 9 hours to get there (not including stops).
More specifically, the drive can take from just 7 ½ hours (if leaving very early in the morning) up to a brutal 12 hours if leaving the city during rush hour.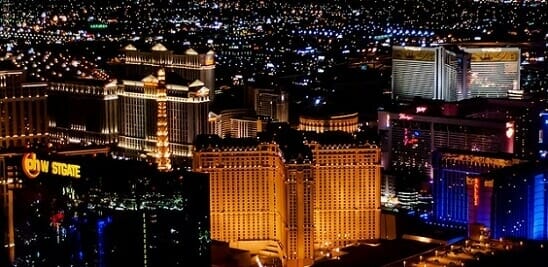 A significant portion of that 12 hours is eaten up in the stretch from downtown San Francisco east to the town of Livermore, California. That part of the drive is just 44 miles, however during rush hour, it can take 2 ½ hours.
From there, the vast majority of the drive is rural, and has you following Interstate 5 south through the Central Valley.
At 283 miles south and east of San Francisco, Bakersfield, California marks almost the exact halfway point of the trip.
It's here where you'll divert off of I-5 and make your way onto Highway 58 East (also called the Blue Star Memorial Highway), to Barstow, California.
At Barstow, you'll get on I-15 for the long desert drive into Las Vegas.
This final portion of the drive from Barstow is 158 miles to the Las Vegas Strip.
The drive is long and boring and mostly flat with not much to see. However if can't wait until Las Vegas to scratch your gambling itch, there are Casinos in Primm, Nevada, which you'll find on the California/Nevada border, 40 miles before you get to Las Vegas.
San Jose to Las Vegas
From San Jose, it's 524 miles to Las Vegas, or 843 km. Normally it's an 8 hour drive or so, but it can reach 10 hours if you're leaving at rush hour.
The route has you going south on 101 to Gilroy, before heading east on Highway 152 to Interstate 5.
Scenic Route from San Francisco to Las Vegas
While the route described above is by far the quickest, it's not necessary the prettiest.
It's been said that to get to Vegas from the Bay area, you can take a one day boring drive, or a 2 day scenic one.
The longer scenic version would have you going through Yosemite National Park.
The Yosemite park entrance is 167 miles east of downtown San Francisco, or roughly a 4 hour drive (165 miles from downtown San Jose). The drive through the park is on Highway 120 (Tioga Road), however please note this road is closed during the winter season.
After driving through Yosemite National Park, you can head south on Highway 395 to hit up another park, Death Valley, before the relatively short drive east into Las Vegas.
While this drive is only slightly longer in miles (585 miles), it will take much longer as you will be driving on curvy, slow-moving roads through Yosemite.
Not to mention, you'll want to stop a lot on the way and check out the jaw-dropping scenery at what is the nation's third most visited National Park.
Distances from Bay Area cities to Las Vegas
All distances represent the fastest driving route, and start out at the center of town, ending at Caesars Palace on the Las Vegas Strip.
Oakland – 557 miles (896 km)

Fremont – 540 miles (869 km)

Santa Rosa – 612 miles (985 km)

Hayward – 541 miles (871 km)

Sunnyvale – 535 (861 km)

Concord – 554 (891 km)
Flying from San Francisco/San Jose to Las Vegas
Including time spent taxiing on the runway, a flight from San Francisco takes 1 and ½ hours, according to Flightsphere.com.
As opposed to the 565 mile driving distance, the flight distance from San Francisco International Airport to McCarran International in Las Vegas is just 414 miles.
There are 161 weekly SFO to LAS flights. United Airlines has the most flights to Sin City, followed by Virgin Airlines and Southwest. These three airlines account for 91% of all the flights from San Francisco to Sin City.
In San Jose, there are 57 weekly flights to Las Vegas from San Jose International Airport. All of these are Southwest Airlines flights, and usually takes just under an hour and a half, according to Flightsphere.com.
Oakland has 73 flights to Sin City each week, 80% of which are Southwest flights.
(Photo courtesy of Eje Gustafsson via Flickr).