Linq Promenade Restaurants & Bars
The Linq Promenade is the fun and attractive pedestrian shopping, dining and entertainment plaza tucked in-between the Flamingo Hotel and Casino and the Linq Las Vegas Hotel and Casino.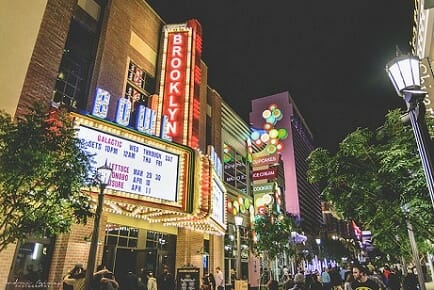 While there is unique array of shops at the Linq, the diverse list of restaurants and bars at the Linq Promenade is even more impressive.
Here's a list of all of the bars and restaurants at the Linq Promenade, in alphabetical order. In addition to these, there are additional restaurants inside the Linq Hotel & Casino itself, including Guy Fieri's Vegas Kitchen & Bar, Dunkins, Hash House a Go Go, and the new, Boss Café by the Food Network's Cake Boss, Buddy Valastro.
AmeriCAN
Located in the spot formerly occupied by the BLVD Cocktail Company, AmeriCAN specializes in, well, cans of American beer.
They serve regular cocktails too of course, but beer is the focus. In fact, the bar serves up 70 different kinds of beers. There's a large selection of both drafts, and bottled beer, from your standard Coors Light, to Nevada craft beers, imports, ciders, and tons of other brews.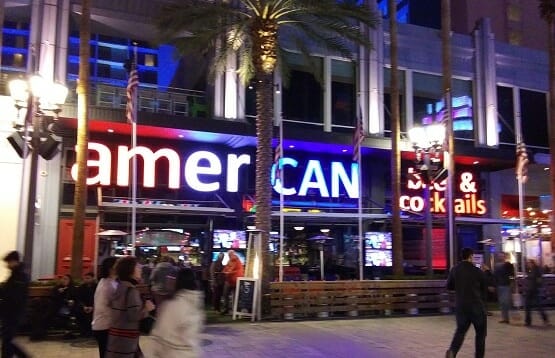 The selection of cocktails and "beertails" include the Shandy, "A refreshing 50/50 of Lager and lemon/lime flavors, perfect for summer.
Miller Lite or Pabst Blue Ribbon, sweet & sour and Sierra Mist with a lemon or lime wedge," and the Twisted Apple, which is, "Angry Orchard, American Born Apple Pie Moonshine, Amareto and Sierra Mist over ice."
There are bar games inside, while the outdoor patio is great for watching people stroll by the promenade.
Brooklyn Bowl
A bar, restaurant, a 2,000 person live music venue and bowling alley, all combined into one. The unique concept is classier than you might imagine.
The 80,000 square foot multi-story complex has 32 bowling lanes. Brooklyn Bowl's restaurant is called the "Blue Ribbon." It serves more upscale bar food, (think smoked pork sliders, French Bread pizza), along with everything from wings to Blackened Atlantic Salmon. However it's really known for their delicious fried chicken.
Readers of the Las Vegas Review-Journal rate the Brooklyn Bowl's music area as the "Best Small Concert Venue" in all of Sin City. As you might imagine, drinks are on the expensive side here.
For information on upcoming acts playing, you can visit their site here: BrooklynBowl.com/LasVegas
Breeze Daiquiris
Situated inbetween the entrance to the Flamingo and Gordon Ramsey's Fish & Chips, this is your typical Fat Tuesday type of frozen drink stand. Breeze Daiquiris has 11 different frozen drinks to choose from.
Chayo Mexican Kitchen + Tequila Bar
A pleasing looking two story Mexican restaurant with both a DJ and a riding mechanical bull. The bull, Chayo, is available to ride.
Befitting of their name, Chayo Mexican Kitchen + Tequilla Bar also has 50 different tequilas. Do not try all 50 in one night. They have Latin nights many Fridays, and also show a lot of UFC fights. This may be topped however, by the people watching on the Linq Promenade, and watching buzzed people try to ride the mechanical bull.
The upstairs patio offers beautiful views of the High Roller observation wheel, while the downstairs patio is perfect for people watching, partly due to its central location.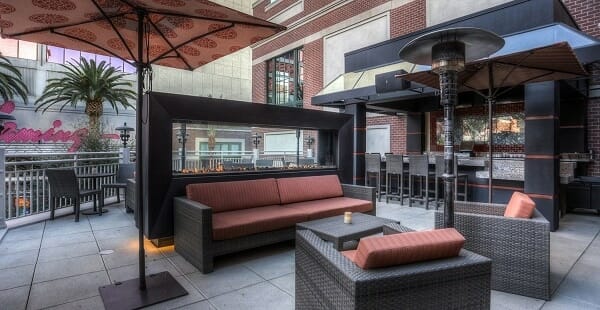 The décor and overall vibe is upscale relaxed with drink prices that aren't too expensive, especially by Las Vegas Strip standards.
Overall, Chayo seems to gets great reviews. Their lobster tacos and shrimp ceviche are particularly noteworthy. Those of you who are adventurous can add an actual scorpion to any tequila shot for just $5. They even serve breakfast.
With the surprisingly lack of good Mexican restaurants on the Strip, Chayo Mexican Kitchen + Tequila Bar may be worth your dining dollar (or pesos).
Favorite Bistro
Described as "French fare with an American flair," this cozy restaurant with the warm dark colors is located right next to Ghirardelli Ice Cream.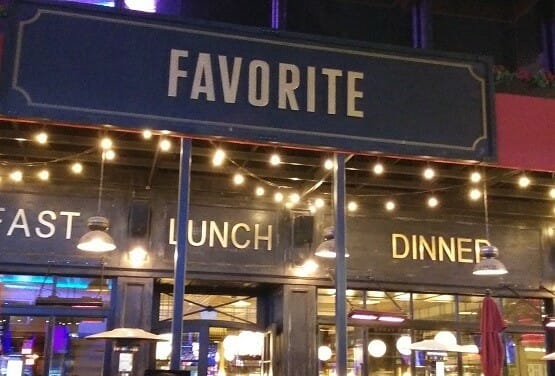 Menu items include Short Ribs Bourguignon, Cassoulet and Lamb Shanks. For the less fancy, you can get the "Hangover Burger" – caramelized onion, swiss cheese, bacon cheese curds and a fried egg served on a brioche bun.
Flour and Barley
A restaurant with a menu that is entirely glutten-free. Just kidding. Flour and Barley is a "casual Italian" place with brick-oven fired pizzas, pasta dishes and such. They also have a sports bar area, and an outside walk-up window where you can pick up a quick slice of pizza to go. My family and I enjoyed our slices from the walk-up window.
Flour and Barley has a cozy, 1,200 square foot outdoor patio in front, and an impressive selection of microbrews.
Ghirardelli Ice Cream & Chocolate Shop
The name of this San Francisco icon says it all. The Ocean Beach Sundae and Golden Gate Banana Split are two of their noteworthy ice cream creations.
Gordon Ramsay's Fish & Chips
This small, charming, 740 square foot fish and chips stand is close to the entrance to the Flamingo. There is seating for just 64 patrons inside, with some additional tables out front. In addition to fish and chips, the small menu includes bangers and mash (sausage over mashed potatoes for us Yanks), and seafood chowder.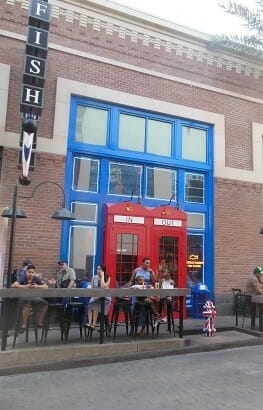 Gordon Ramsay's Fish & Chips is located very close to the giant pink Flamingos in front of the Linq's Flamingo entrance.
Haute Doggery
This quaint, 1,000 square foot eatery serves gourmet hot dogs with every type of topping imaginable.
Plain hot dogs start in the five buck range (just the dog, not a meal combo or anything), and prices go up to $11 for the "Hangover Dog" which is a "char-grilled frank, bbq brisket, grilled onions, jalapeños, swiss cheese, bacon bits, ketchup, mustard, & mayo." They also serve alcohol-infused milk shakes.
Haute Doggery is open until 10 PM on weekdays, and until 11 PM Friday and Saturday nights.
I Love Sugar
Yes, it's more of a candy store, but there's actually a bar upstairs. In addition to the great views, the I Love Sugar bar specializes in candy-flavored martinis.
IceBar
The newest bar on the Linq Promenade will help cool off from those scorching Sin City days, as the temperature inside here is kept at a chilly 23 degrees Fahrenheit.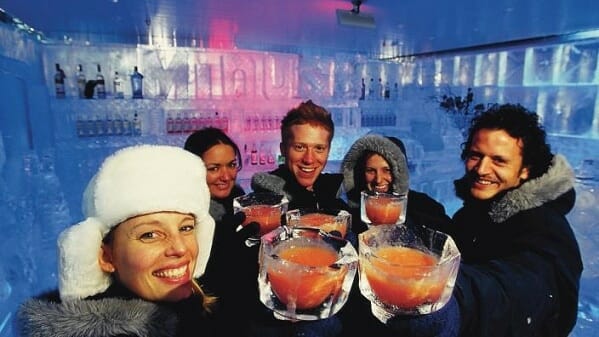 However cooling off will cost you a hefty cover charge.
As of this writing, it's $24 to get in. That gets you gloves and a parka. For $49, you get entry, a parka to use, and two ice cocktails. You drink out of ice glasses here.
In-N-Out Burger
This outpost of the iconic California burger joint makes it the first (and only), In-N-Out Burger on the Las Vegas Strip. It has a retro-themed decor, patio seating, and of course, it's famously simple (but delicious) menu.
Jaburritos
What if you combine sushi and burritos? You get Jaburritos! And I have no idea how they taste. Jaburriots has two locations in Las Vegas, and the Linq version opened on January 31st, 2017.
Each sushi burrito runs between $9 to $13. There are also sushi rice bowls, miso soup and (why not?) chips and queso.
Jimmy Kimmel's Comedy Club (Temporarily closed)
Opened in June 2019, this bar/comedy club has two stories and 8,000 square feet, with a rotating cast of comedic headliners.
The bar part of the club opens at 4 PM daily.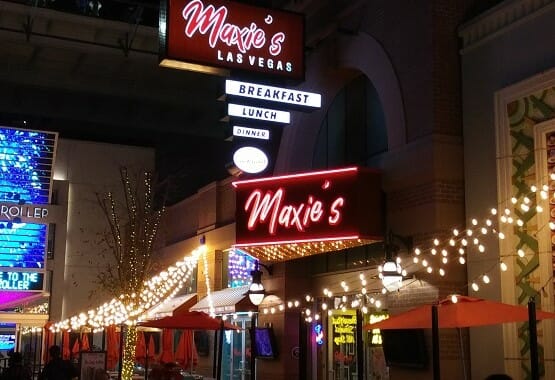 Maxie's
This diner promises you "elevated dinning classics." In other words, some fun twists on American diner restaurant classics.
These include (at breakfast), "a Fluffy Cotton Candy Pancake Tower, Oreo Cookie Waffle Stack, Coco Pebble French Toast and Cereal Flavored Milkshakes made table side."
Other dishes include everything from burgers to salads to the pepperoni grilled cheese, and "The Blueberry Clucker" – a fried chicken sandwich with blueberry jam and blueberry mayo.
O'Sheas
A sanitized, not-as-fun version of the original casino. The new 5,000 square foot O'Sheas has the beer pong and bar, along with 50 different types of beer. The casino still has low limit craps and blackjack tables, so that's a plus.
The also seem to have cheaper drinks than you'll find at most of the other Caesars Entertainment properties.
Off the Strip
A two story locally-owned American bistro type of restaurant, serving steak, seafood pasta dishes, lasagna, pork chops and more. Favorite menu items include the lobster ravioli and Beef Wellington. Their cheesecake also scores great reviews.
Off the Strip also runs a popular daily brunch menu.
Re:Match
Not exactly part of the promenade, this open-air bar (when the weather is good), is part of the Linq Hotel. It fronts the Las Vegas Strip and is a great place to sit back and people-watch.
Behind the Re:Match bar are a variety of modern and classic video games.
Starbucks – Perhaps you've heard of it. This branch is open from 6 AM to 2 AM daily.
Sweet Sin by Claude Escamilla – Previously called "Sweet Envy," this is located right across from the outside entrance to the Flamingo. Here you'll find pastries, macaroons, specialty coffees and the like. I stopped here with my wife and kids and they devoured their tasty gelato.
The Tilted Kilt
A chain sports pub known mostly as the place where the sexy waitresses wear plaid skirts and low cut tops. What else do you need?
The food doesn't get as good of reviews as does the attractiveness of the waitresses. The Tilted Kilt serves mostly standard sports bar type fare: burgers, salads, wings, chicken sandwiches, wraps, etc.
Virgil's Real Barbecue
This New York based restaurant boasts of "Southern Style" barbecue, covering styles from Texas to North Carolina and all point in-between. This 15,000 plus square foot two-story restaurant has three patios and live music every night.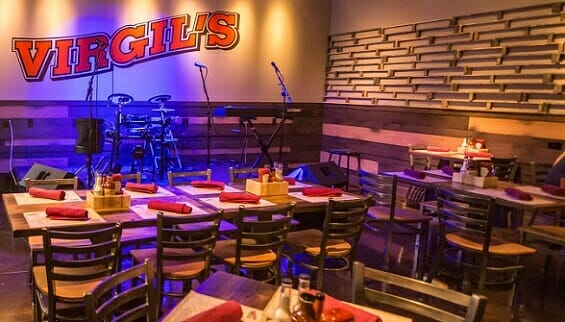 The Carolina pulled pork and Memphis-style ribs get good reviews here.
Yard House
Classic American food at this popular chain, but the selling point may be the 160 different beers on tap. Located on the eastern end of the Linq Promenade, the Yard House has a large outdoor patio for viewing of the passers-by and of the High Roller next door.
Linq Restaurant Parking
The closest parking to Linq bars and restaurants can be found at the Linq Hotel itself of course, or at the Flamingo Hotel and Casino next door. Both charge for self-parking and valet.
Either way, some restaurants (like Chayo Mexican Kitchen) have been known to have promotions wherein if you dine at their establishment, you won't have to pay the Linq parking fee. So you may want to check with your server about parking validation.
Closed Bars and Restaurants on the Linq Promenade
Here are the restaurants and bars at the Linq that have since closed, along with my original article wording:
Canter's Deli – Opened in September 2017, this is the Las Vegas outpost of the famed L.A. deli. The restaurant is located near the entrance to the High Roller with seating for 200 patrons, not including patio seating.
The L.A. version is known for its celebrity customers, and was even once the location of a scene in the TV show "Mad Men." It's also known for it's big pastrami sandwiches and New York style cheesecake.
Canter's on the Linq Promenade closed in March of 2019.
Amorino Gelato – This dessert stop boasts 1,500 square feet, inside which you'll find macroons, chocolate croissants, and 24 flavors of European gelato and sorbet, served with your choice of waffle cones or crepes. Amorino's opened in August of 2016 and also serves gourmet coffee and 10 different flavors of Italian hot chocolate.
Amorino Gelato closed in the fall of 2018.
Squeeze – a walk-up smoothie and juice bar like you see at any mall – only here you can add alcohol to any drink for $2. They also have sangrias, mojitos, etc. They serve up fresh, organic juices, and combo drinks where you can add your choice of 5 organic fruits or vegetables. Closed in January of 2018.
Urban Turban – This newer addition is a small food stand (no seating), that serves curry bowls and a couple of different chicken or vegetarian nan wraps. Closed in the summber of 2017.
FAME – Stands for "Food, Art, Music, Entertainment." There are live performances in this Asian-themed joint, where the first floor attempts to re-create an Asian street vendor vibe, while upstairs is home to a "trendy Japanese" restaurant. But if you describe yourself as "trendy," you probably aren't.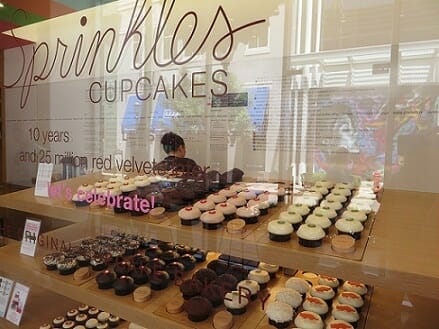 (FAME closed on January 23, 2015. A pink notice hung on their door stated that is was "Closed for violation" due to a "Failure to comply" with a Southern Nevada Health District regulation).
Blvd Cocktail Company – An upscale piano bar with live music, dark lighting, booths and an overall more quiet, cozy vibe than most bars in Las Vegas. As the name implies, there are plenty of hand crafted cocktails to choose from.
(The Blvd Cocktail Company closed in the fall of 2015).
Sprinkles Cupcakes – I don't know what a "Madagascar Bourbon Vanilla" cupcake tastes like, but I bet it beats the ones covered in saran wrap at your local PTA sale. Sprinkles also serves ice cream sundae cupcakes.
This little restaurant also has a cupcake ATM dispenser, for when you get those cravings at odd hours. (Sprinkles closed at the Linq on 7/5/19).
(By Steve Beauregard. Photos courtesy of gamboool.com (for Maxie's), Adrei Asinas, (Off the Strip photo) Ken Lund for two photos including Sprinkles, and Anna Irene via Flickr, Visit Las Vegas, Virgil's Real BBQ and Chayo's Mexican Kitchen).