Waffle House Las Vegas, NV – Closest Location
By Steve Beauregard
They are a culinary staple of the south, with their iconic yellow signs with black block print dotting the roadways all across the southern United States.
And, with a growing westward expansion, they have seen the chain rise from a small single restaurant in Avondale Estates, Georgia to over 1,500 restaurants across the country.
Unfortunately however, there aren't any Waffle House locations on the Las Vegas Strip or in any other part of Las Vegas for that matter. Nor are there any Waffle House restaurants in the state of Nevada.
In fact, the closest Waffle House to Las Vegas is in Phoenix, Arizona, approximately 300 miles to the south and east. I'm pretty sure even the most die-hard Waffle House fanatic will skip the four plus hour drive to find a closer fix.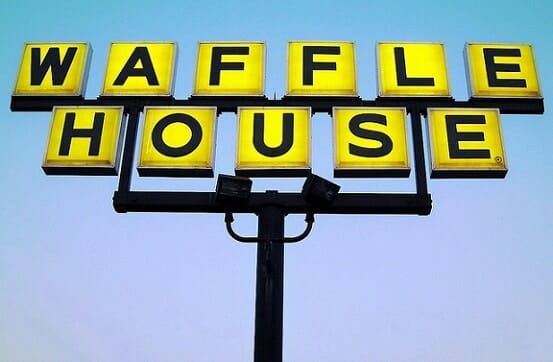 And that's too bad, as the Las Vegas Strip would seem to be a perfect spot for this chain. After all, the Waffle House is known for cult-favorites and great drunken food, like the T-bone steak and eggs, Bert's Chili, waffles of course, and eight different styles of hash browns.
On top of that, all of the 1,500 plus Waffle House locations are open 24 hours a day, 365 days a year. Looking back on it, it's sort of surprising Las Vegas doesn't already have one. You can see it being busy and packed with a waiting list almost every minute of the day and night.
On the waffle front, perhaps the most popular variety (other than the plain original Sweet cream waffle), is the pecan waffle. Other waffle flavors include blueberry, strawberry, peanut butter and chocolate chip waffles.
In addition to their breakfast menu (served all day and night), the Waffle House is known for their sweet tea (called Alice's Iced Tea), biscuits and gravy, grits, along with their affordable prices.
The lunch and dinner menus include build-your-own burgers, patty melts, pork chops, chicken, wraps and salads.
Closest Waffle House to Las Vegas
As mentioned above, the closest Waffle House to the Las Vegas area are the restaurants in the Phoenix metro area. Phoenix and its surrounding suburbs have 12 Waffle Houses, while other western states like New Mexico and Colorado have franchises as well. Thus far, however, Waffle House has yet to expand to Las Vegas, (or California for that matter).
Other Waffle-House type options by the Strip
Although not the official "Waffle House" restaurant, there are other self-identified waffle houses located in Las Vegas, and on the Strip.
Perhaps the most popular waffle and general breakfast option on the Strip is the very popular Hash House a Go Go inside the Linq Hotel and Casino, on the second floor above the casino.
This place is known for their gigantic portions, (easily enough for my wife and I to share). Their large chicken and waffle plate is called "The Big O' Sage Fried Chicken & Waffle Tower" and consists of two fried chicken breasts atop a bacon waffle and covered with maple syrup. If that weren't enough, it's served with two eggs.
Hash House a Go Go also has locations at the Rio Hotel and Casino and Plaza Hotel and Casino downtown, as well as one three miles west of the Strip at 6899 West Sahara Avenue, along with one on N. Stephanie Street, by the Sunset Station Hotel and Casino in Henderson.
Bruxie is a new waffle option on the Strip. Located in the Park on the way to T-Mobile arena between the Monte Carlo and NY-NY, Bruxie calls themselves the "Home of the Original Waffle Sandwich."
For those with bigger budgets, Bouchon at the Venetian is renowned for their varieties of more gourmet waffles.
Off the Strip, Blueberry Hill Family Restaurants can be called the Las Vegas version of the Waffle House. In other words, a comfortable breakfast diner type place. They serve eight different varieties of waffles and have four different locations in Las Vegas.
There are also the Waffles Café restaurants in Las Vegas, in which there are two locations in Sin City. However both spots are away from the Strip.
(Photo courtesy of rob_rob2001 via Flickr.)