By Steve Beauregard
There are two In-N-Out Burger locations within a reasonable walking distance of the MGM Grand Hotel & Casino.
The closest one is down the street on Tropicana Avenue, and is approximately an 8/10th of a mile walk each way. It should take a normal walker around 15 to 20 minutes to get there
The nearest In-N-Out to the MGM Grand is the one east of the Las Vegas Strip on Tropicana Drive, the major road that runs right by the MGM. This In-N-Out is just east of I-15, on Dean Martin Drive. Specifically, the address is 4888 Dean Martin Drive.
By my calculations, it's an .8 mile walk, or 1.8 kilometers. That's starting from close to the front Strip entrance of the MGM Grand. Some mapping systems say it's a 1.1 mile walk, but they start near the MGM Grand parking lot, and don't account for the fact that it's not a straight shot, due to the fact you have to some little zig-zags to get there. More on that in a second.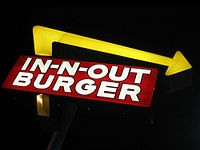 To get there, leave the upper MGM Entrance outside the intersection of Las Vegas Boulevard (The Strip), and Tropicana Avenue. There are two exits: one on the Strip level, and one that takes you over a pedestrian bridge to the New York – New York Hotel and Casino. Take the pedestrian bridge.