Caesars Palace Las Vegas
Caesars Palace charges a hefty resort fee, ($45.95 before tax), which can make that seemingly "good" hotel deal you found online a little less appealing. (More on that below)
Caesars of course, was the first themed casino on the Las Vegas strip. Prior to its completion in 1966, hotels along the strip were your standard, ordinary square boxes – luxurious perhaps, but devoid of personality.
That all changed when Caesars Place developer Jay Sarno wanted to stand out by designing a resort that would make the typically guest "feel like a Roman emperor." Go here to read more about: Caesars Palace History.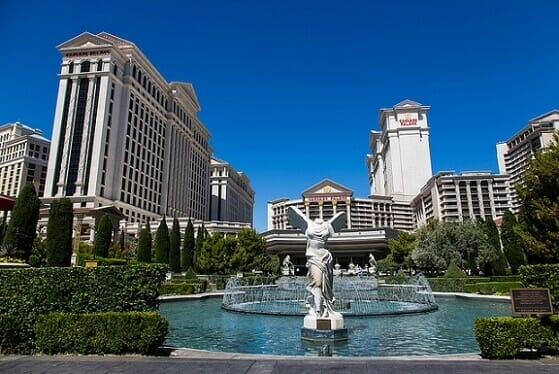 The result is a beautiful, massive resort stretching along a prime piece of strip real estate between Flamingo Boulevard (and the Bellagio) on the South, and the Mirage to the north.
This 85 acres of fun has 6 towers, 14 restaurants, almost 4,000 hotel rooms, nearly 1/3 of a million square feet of convention space, a 40,000 square foot nightclub, a 4,000 seat concert hall and the most successful shopping mall in the United States. There's also some gambling.
Caesars Palace Resort Fee 2023
Caesars Palace charges a nightly resort fee of $45.95 before tax.
And since Las Vegas Strip hotels now have a 13.38% tax rate, your nightly resort fee will be $52.09 after tax.
This covers all local calls, in-room internet access for two devices, and access for two guests to the health club.
Those of you with a Caesars Rewards card at Diamond status or higher do not have to pay the resort fees.
More on Caesars Palace
It's owned by Caesars Entertainment. In addition to its flagship namesake casino, the family of casinos includes the Rio, the Paris, Harrah's, The Cromwell, the Flamingo, The Linq, and Bally's. What this means for you is that your Caesars Rewards card is good here.
There are two main, separate casino areas here: the Palace Casino, and the Forum Casino. Both are clean, attractive and spacious, given the fact they add up to 129,000 square feet of casino floor space. There's ornate tile everywhere, beautiful columns, high ceilings all decked out in a somewhat ancient Roman motif.
Casino
The bustling casino features every game you could ever want, many at stakes you cannot afford. I still remember being an 18 year kid back in 1987 and watching in awe as a lady plunked tokens into a $100 a pull slot machine. Today there are even higher-denomination slots, and table games where the limits start in the thousands.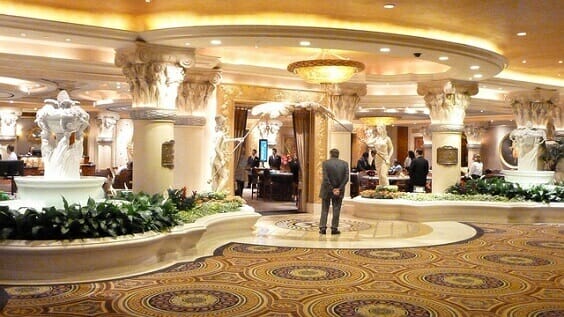 For a point of reference, the Palace Casino is the one where many of the table games are situated under an ornate dome, whereas the Forum Casino adjoins the entrance to the Colusseum, and which leads to the Forum Shops. (To read more about the Forum Shops, go here: Caesars Palace Forum Shops List and Hours.
Sports Book and Poker
The Caesars Palace sports book still always wows me. Every major casino has the huge, multiple screen format of a giant sports book, but Caesars was one of the first casinos to highlight this area of gambling. Between the aisles of seats, enormous television screens, and the numerous betting lines lit up, it looks – at first glance – like the mission control room at NASA. If NASA had parlays and free beer.
The newer, smaller poker room opened in 2015, and is a nicer, better room in my view than the $12 million separate poker room that had opened in 2005 but which closed to make more room for the nightclub, Omnia.
It's much smaller than the 62 table room, with its 8,500 square foot main cash game room, and adjoining six thousand square foot tournament room.
The new room is out in the open, more comfortable, accessible to tourists like me, and is home to the cool, enormous paintings of some of the famous boxing matches that have taken place at Caesars over the years (it used to host some big time fights outdoors).
Hotel
As for the hotel, its nearly 4,000 rooms offer pretty much what you'd expect from a nice strip resort. If you're a whale with comps, you'll get a luxurious suite with incredible views. But even if you pay the rack rate for the cheapest room, your room at Caesars will most likely be clean and modern and a notch above most strip hotels. You'll pay for it too. I've never been able to find a good deal on a room there.
The six towers full of rooms are the Roman, Centurion, Palace, Forum, Octavius and Augustus, which can offer views of the Bellagio fountains. The Octavius is the most recent of the six, having opened in January of 2012. It's the tower closest to the Bellagio, along Flamingo Road, and a long walk to the main casino and restaurant areas. Rooms there are 550 square feet and cost more than the older Roman and Centurion tower rooms.
Dogs at Caesars Palace
Your dog can even can stay at Caesars Palace, for $200 a night. Of course, you have to be with him or her and the $200 is on top of what your hotel room costs.
It's part of the PetStay program, in which you're allowed to have your dog (up to 50 pounds) stay with you in designated rooms in the Augustus Tower. Amenities for Fido include floor mats, water and food bowls, special treats and even directions to the outdoor potty areas (for the dog, not you).
Another newer addition is Nobu. You've probably heard of the famous sushi joint co-owned by Robert De Niro, however this Nobu is a restaurant, as well as a boutique hotel. It's sort of a hotel within a hotel – in the vein of the Four Seasons at Mandalay Bay. The luxurious suites here will be 1,850 square feet. Guests will have "priority access" to the Nobu restaurant, along with concierge service. There's also a complimentary valet.
Caesars Palace Address, Phone & Website
3570 Las Vegas Boulevard South
Las Vegas, NV 89109

866-227-5938 (toll free)

Website: Caesars.com/Caesars Palace
Caesars Palace Swimming Pools
The thing about swimming among the beautiful gardens, fountains, and architecture at Caesar's Palace is that in case you get bored with the swimming pool you're in, there's SIX more to choose from.
The five acre pool complex is called the "Garden of the Gods Pool Oasis." The seven pools are on three different levels, and include casual dining options, as well as bars, drink service and my personal favorite: swim up blackjack!
As per modern-day strip hotel pools, 44 cabanas are available for you to rent, if you're able to afford that sort of thing. They come equipped with refrigerators and furniture and um, a flat screen TV with a DVD player for some reason.
For those of you who don't want to have to mingle with the riff raft in the main pools, the Venus Pool is a little more upscale. There's a charge to use this pool (for males only), even if you are staying at the resort.
All the other pools are free for guests at the hotel. The pool season is weather –dependent of course, but generally the season runs from March to October.
On the eating front, there are 13 restaurants at Caesars Palace, including the largest buffet in Las Vegas. These are on top of the new Caesars Palace food court, (called the "Forum Food Hall," 13 restaurants at the Forum Shops, not to mention room service. You will not starve.
The hotel's restaurant lineup includes three by some celebrity chefs that have become famous based on either their culinary skills, or their ability to make a reality show contestant cry like a 3 year old girl:
Gordon Ramsay Pub and Grill and Gordon Ramsay's Hell's Kitchen
Bobby Flay's Amalfi
Restaurant Guy Savoy
Overall, Caesars Palace is at once a Vegas throwback and state-of-the art casino. And it's certainly one of those casinos you must hit up on every Vegas trip.
Yes there are some drawbacks. The food, (even in the less glamorous restaurants) is pricey. As mentioned earlier, you'll do a lot of walking here, and guests have been known to get lost. And the seemingly increasingly higher limits for table games are sort of hard on the wallet when the inevitable losing streak occurs. Oh how I miss those $5 dollar blackjack tables.
(By Steve Beauregard. Photos courtesy of Joao Carlos Medau and and Sheila Thompson via Flickr).