Caesars Palace Las Vegas
Address: 3570 S Las Vegas Blvd, Las Vegas, NV 89109
Phone Number: +1 866-227-5938
Website: www.caesars.com/caesars-palace
Hours: Caesars Palace is open 24 hours a day, 7 days a week.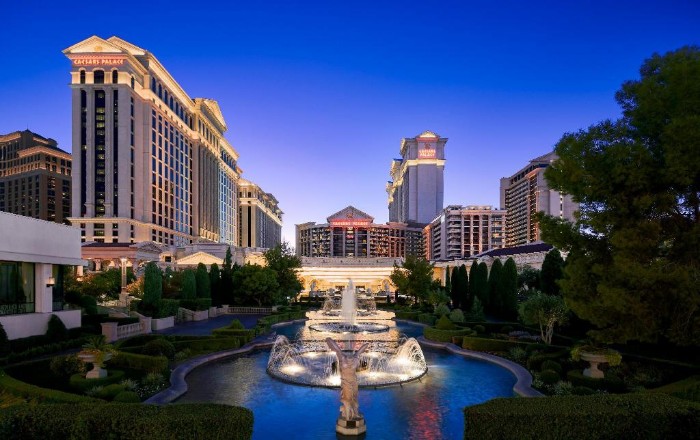 Caesars Palace was opened in 1966 by Jay Sarno and Stanley Mallin. Inspired by the Roman Empire, it was one of the first luxury hotels and casinos in Las Vegas. It quickly gained a lavish reputation, making it a favorite among celebrities and high rollers.
The resort has grown over the years to offer more than 3,500 rooms and suites, a luxurious spa and seven different pools. In addition to its nightly entertainment, they offer dining choices from celebrity chefs Gordon Ramsay and Guys Savoy.
Their gaming floor boasts more than 185 table games and 1,300 slot machines. The hotel also features several promotions and events throughout the year, as well as luxurious shopping experiences.
For entertainment, guests can take in a show at The Colosseum at Caesars Palace. Here they will find performances from some of the biggest names in music, including Celine Dion and Mariah Carey.
At this casino and hotel, there is something for everyone to enjoy. From its luxurious accommodations and exciting gaming opportunities to its iconic shows, you will surely find something to keep you entertained.
On TripAdvisor, this casino hotel has a rating of 4.5 out of 5 stars from over 24,000 reviews. One guest commented, "This is one of the best casinos in Las Vegas. The staff are friendly and helpful, and the facilities are top-notch. Highly recommended."
Another guest said, "I had an amazing time at Caesars Palace. The rooms were clean and luxurious. The pool was great, and the restaurants were outstanding. Highly recommend it!"
(Related reading: Nevada casinos)
Gaming
Their gaming space includes over 1,300 slot machines and 185 table games. They offer a wide selection of games, including blackjack, roulette, baccarat, craps and more. They also have a variety of progressive jackpots on offer.
Table Games
If you are planning a trip to this casino in Las Vegas and are interested in playing some table games, then you are in for a treat. With a wide range of game options available, there is something for everyone.
Blackjack, roulette, and craps are classic casino staples that offer excitement and strategy. If you want something different, try Pai Gow Poker or Let It Ride. For those who enjoy poker, there are options such as Texas Hold 'em, 3-Card Poker, and even Gamblit Poker.
The minimums for most table games at this casino are $10-25. However, some tables may have higher or lower limits depending on the game and time of day. Be sure to check with a dealer before playing.
Slots
In addition to its gaming floor, this casino offers guests a wide selection of slot machines. Popular games include:
Raging Rhino Rampage
Wheel of Fortune
Chicken Fox
Buffalo Grand
Divine Fortune
Pixies Of The Forest
Quick Hit Platinum
Eldorado Infinity Reels
Unfortunately, this casino does not publicly disclose the payback percentage of its slot machines. However, the minimum payout rate in Las Vegas is 75%. This means that on a $1 bet, you can expect to win 75 cents back.
Hotel/Resort
This casino boasts more than 3,500 luxurious rooms and suites. Each room has a flat-screen TV, Wi-Fi access, and other amenities to make your stay as comfortable as possible.
Choose from the elegant Forum Classic Rooms, the spacious Julius Deluxe Rooms, the indulgent Octavius Premium Rooms, or the stylish Nobu Deluxe Rooms. No matter which room you choose, you'll experience an unmatched level of comfort, convenience, and sophistication.
Additionally, the resort features several amenities to make your stay even more enjoyable, including:
Wifi access
Valet and self-parking onsite
24-hour front desk
24-hour room service
Concierge services
Daily housekeeping
A full-service spa and salon
Swimming pools
A fitness center
Business center and meeting rooms
Banquet facilities
Onsite restaurants and bars
Pet-friendly rooms
A sportsbook
Live entertainment and shows
Shopping stores
Rates vary depending on the time of year, room type, and other factors. However, you can generally expect to spend at least $80 per night for a standard room, excluding fees and taxes. For the best rates, check the official website or book in advance.
Check-in time at Caesars Palace is 4:00 pm
Check-out time at Caesars Palace is 11:00 am
Restaurants & Buffets
If you're searching for amazing cuisine in Las Vegas, look no further than this casino. With various restaurants to choose from, there's something for every palate. For those who love buffets, check out the Bacchanal Buffet, with prices ranging from $64.99 to $79.99.
Craving Italian? Look no further than Amalfi. Fans of Asian cuisine will love Beijing Noodle No. 9, while French pastries are offered at Brioche by Guy Savoy. Mr. Chow is perfect for a night out with friends, while Dominique Ansel offers delightful treats.
Fans of Gordon Ramsay will love Hell's Kitchen, and sushi fans will love Nobu Restaurant Las Vegas. And finally, steak lovers won't be disappointed with a visit to Old Homestead Steakhouse. There's no doubt about it – this place is a food lover's paradise.
Pools
If you're looking for a luxurious outdoor pool experience in Las Vegas, this casino should be on your list. This iconic hotel offers not just one but seven stunning pools to choose from.
From the serene and relaxing Temple Pool to the lively and energetic Garden of the Gods Pool Oasis, there's a pool for every mood and vibe. With plenty of loungers, cabanas, and daybeds scattered around the pools, you can soak up the sun and enjoy a refreshing cocktail in style.
And for those who want to take the pool experience to the next level, you can book a cabana or daybed to get the ultimate VIP treatment. So bring your bathing suit and get ready to dive into the world of luxury and relaxation at this casino's outdoor pools.
Caesars Palace, Las Vegas, NV FAQ
Does Caesars Palace Have A Sportsbook?
Yes, they have the Caesars Sportsbook. It's located in the center of the casino and offers a wide selection of betting options on sports, horse racing, and more. Guests can also bet online or through their mobile app for added convenience.
Is Poker Available At Caesars Palace?
Yes, they offer multiple poker variations, including Texas Hold'em, Stud, Chinese Poker and more. The poker room is located in the center of the casino and offers 24-hour action for guests. Players can also join various tournaments and competitions for an even bigger challenge.
What Are The Age Requirements For Gambling At Caesars Palace?
The minimum age for gambling at this casino is 21 years old, and guests must have valid government-issued photo identification to enter the casino. Guests under 21 are not allowed to be in the casino or any other gaming areas of the resort.
Does Caesars Palace Have An Online Casino?
No, they do not have an online casino. However, guests can still play their favorite slots and games in the casino or join tournaments in the poker room. They also offer a mobile app for sports betting that allows players to wager from anywhere in Nevada.
Is There An Caesars Palace App?
No, they do not have an app dedicated to their casino. However, they offer a mobile app for sports betting that allows players to wager from anywhere in Nevada.
Additionally, their website is optimized for mobile devices, so guests can easily access the latest information and promotions from their smartphones or tablets.
What Is The Dress Code At Caesars Palace?
The dress code at this casino is business casual. Guests are expected to wear clothing that is presentable and in good condition. Shorts, tank tops, and flip-flops are not allowed in the casino or any other gaming areas of the resort.
Is There An Airport Shuttle Available From Caesars Palace?
Unfortunately, they do not offer an airport shuttle. However, guests can book a taxi or ride-sharing service from McCarran International Airport to the resort. Guests can also rent a car from one of the onsite rental agencies for added convenience.
What Is The Smoking Policy At Caesars Palace?
Smoking is not allowed inside the casino or any other gaming area of the resort. Guests are welcome to smoke outside in designated smoking areas, but they must remain at least 25 feet away from entrances and air intakes.
What Is The Pet Policy At Caesars Palace?
They allow up to two dogs weighing 50 pounds or less in their rooms. For only $100 per night and a refundable $100 incidental deposit, your furry companion can enjoy the comfortable accommodations as much as you do.
Is Wifi Available At Caesars Palace?
Yes, wifi is available throughout the entire property. Guests can connect to the secure network for free and enjoy high-speed internet access. They also have a business center with computers and printers for those who need to stay connected while traveling.
What Is The Cancellation Policy For Caesars Palace?
The cancellation policy for this casino varies depending on the type of booking and rate. Guests can cancel their reservations up to 48 hours before the arrival date without being charged a fee. However, all cancellations after this time will be subject to charges.
Conclusion
This casino hotel offers many gambling options, luxurious accommodations and amenities. Guests can also enjoy various tournaments and competitions in the poker room, sports betting on their app or website, and free wifi to stay connected.
They have strict age requirements for gambling, as well as a business casual dress code and pet policy. To avoid fees, guests can cancel their reservations up to 48 hours before the arrival date.
With all of these features and options, Caesars Palace is sure to provide an unforgettable experience for everyone who visits. So start planning your trip, and make sure to check out all the great things this casino has to offer.