Casino Royale Las Vegas
Address: 3411 Las Vegas Blvd S, Las Vegas, NV 89109
Phone Number: +1 702-737-3500
Website: www.casinoroyalehotel.com
Hours: Casino Royale is open 24 hours a day, 7 days a week.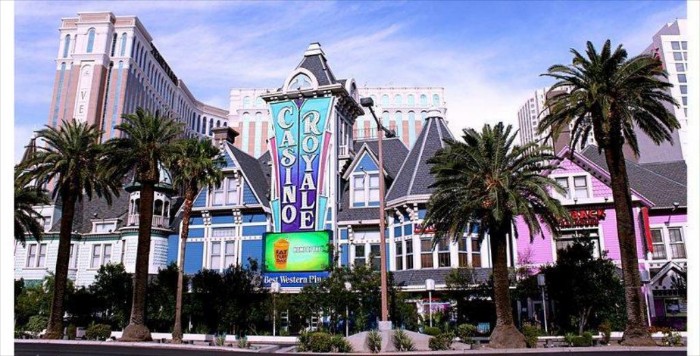 Casino Royale has been a staple on the Las Vegas Strip since 1992 when it opened as a mid-level casino offering slot machines and table games. Initially, the casino known as Nob Hill Casino was owned and operated by the same people who owned the then-Holiday Casino.
In 2000, the casino underwent a major renovation and rebranded itself as Casino Royale, owned by Tom Ilardi. Since then, the casino has become one of the favorites among visitors and locals alike.
Currently, the property is home to some of Las Vegas' biggest and best gaming options, a wide range of restaurants and bars, and all sorts of entertainment options. Their gaming space features over 200 slot machines and various table games.
Additionally, the property offers guests more than 150 guest rooms, each equipped with modern amenities. The casino also provides guests access to a wide array of amenities such as an outdoor pool, gym and fitness center.
Aside from its gaming options, this casino houses various restaurants and bars for casual dining and nightlife. They also have a Denny's for late-night cravings and a Subway for a quick and easy bite.
Whether you're in town for business or pleasure, this casino is the perfect spot to get all your gaming needs taken care of, plus enjoy some delicious food and drinks.
Guests rate Casino Royale Las Vegas highly, with an average rating of 4.5 out of 5 stars on TripAdvisor. One review said, "This casino has it all. It's clean, the staff are friendly, and there are plenty of gaming options. Not to mention their location is great for walking around the strip."
Another review said, "We had a great experience at Casino Royale. The staff were helpful and accommodating. We enjoyed our stay and the food was delicious. Highly recommend!"
(Related reading: Nevada casinos)
Gaming
This casino offers a wide array of gaming options for all types of players. They have 200 slot machines, as well as various table games including blackjack, craps and roulette.
Table Games
If you're looking for some exciting and classic table games to play at this casino, you've come to the right place.
They offer several of your favorite options such as 3X 4X 5X Odds on Craps where you bet against the house for even more winnings; Blackjack Switch Bonus is a twist on classic blackjack where you switch your top two cards.
Additionally, they have Roulette with one of the crappiest odds in gambling but still a lot of fun; $5 Single Deck Blackjack gives players an even greater chance at winning when they use strategies well; FreeBet Blackjack increases betting opportunities while playing Classic 21.
Finally, they have 3-card Progressive Poker, which gives players an opportunity to make bigger payouts while experiencing poker without the stress.
This Las Vegas casino offers table game minimums that are suited to fit any budget. You can bet for as low as $5 on some games, while others require a minimum of $25.
Slots
This casino is known for its impressive selection of slot machines that range from popular classic versions to the most cutting-edge designs. Whether you're a long-time slot enthusiast looking for an exciting new challenge or just getting started, there's something for everyone.
Popular metamorphic slots include Wicked Wheel and 007, while active players will find quick thrills with Quick Hits, Buffalo Grand, and Buffalo Gold.
Fans of ancient Chinese culture should check out the unique Dancing Panda machine, while die-hard Willy Wonka fans are sure to be delighted by the game inspired by the classic book. Zombies and TV fans alike can have lots of fun on machines such as Walking Dead and Sex in the City.
Other favorites including Tarzan, Wizard of Oz, Epic Monopoly machines, Wheel of Fortune, and Mega-Bucks are all great options at Casino Royale.
The slot machine payback percentage at this casino is not publicly available. However, Nevada law requires all slot machines to have a minimum of 75% payouts.
Hotel/Resort
The hotel at this casino is a great retreat for those who want to stay within walking distance of the casino. There are more than 150 guest rooms, each equipped with modern amenities like high-speed Wi-Fi and flat-screen TVs.
Unwind in one of their guest rooms, complete with granite countertops and plush bedding. With complimentary cable television and an in-room coffee maker, you can find a perfect place to relax after a day of fun in Vegas.
You can choose from Standard King bedrooms, two Double Beds or a Suite-1 King Bed with Jetted Tub–whichever fits your requirements best. Plus, the hotel is 100% smoke-free so freshened air comes standard.
They even follow green practices, providing complimentary recycling and energy-efficient appliances.
This casino offers a variety of amenities to make your stay more enjoyable. Guests can take advantage of some of the following amenities:
High-speed internet access
Multiple dining options
Unique attractions on the Vegas Strip
Outdoor heated pool
Exercise facility
Universal gym
Foreign currency exchange
Dry cleaning services
Business center
Free parking
The cost to stay at this hotel varies depending on the season and room type. Rooms range from as low as $80 per night plus taxes and fees. You can also watch out for promotional offers and deals to save even more.
Check-in time at Casino Royale is 4:00 pm
Check-out time at Casino Royale is 11:00 am
Restaurants & Buffets
If you're looking for a delicious and memorable meal on your next trip to this casino, you're in luck. From classic American fare like Subway to juicy steaks at Outback Steakhouse, there's something to please everyone.
Or enjoy some Italian favorites with Pizza Hut. Get your fill of burgers and fries at White Castle, then top off the night with a refreshing beverage from Fat Tuesday. But don't forget breakfast for dinner – Denny's has you covered any time of the day or night.
Whatever you decide on dining-wise, unfortunately, there aren't any buffet-style restaurants in this casino. But we promise you won't leave disappointed at the excellent food selection this town has to offer.
Pools
When visiting this casino, you will definitely want to take some time to relax and bask in the sun at one of the resort's outdoor heated pools.
Perfect for both adults and children alike, the temperature is kept at just the right level for soaking up the sunshine without ever feeling too hot.
Whether you're looking to get a few laps in or just lounge with a book or magazine, there's something for everyone here. This gorgeous oasis boasts plenty of seating and umbrellas to help shade you from any intense rays that may come your way.
Casino Royale, Las Vegas, NV FAQ
Does Casino Royale Have A Sportsbook?
This casino is sure to be a great spot for sports fans. You can get your game on at the William Hill Sportsbook, located right inside this popular casino.
With plenty of comfortable seating and viewing options, you'll have no trouble cheering on your favorite team or keeping up with all the live action.
Even better yet, when you're done watching all the excitement, you can continue in your winning streak by visiting all the other top-notch entertainment the casino has to offer.
Is Poker Available At Casino Royale Las Vegas?
Yes, poker can be enjoyed at this popular casino. Whether you're an experienced poker pro or just getting started, they offer live tournaments that are sure to keep everyone on the edge of their seat.
What Are The Age Requirements For Gambling At Casino Royale?
The age requirement for gambling at this casino is 21 years of age. All patrons must be able to provide valid government-issued photo identification in order to enter any gaming areas within the building.
Does Casino Royale Nevada Have An Online Casino?
No, they do not have an online casino. It is a land-based casino that offers slots, table games and poker tournaments for patrons 21 years of age and older. You can find more information about the casino's offerings on its website or by calling the front desk.
Is There An Casino Royale App?
Unfortunately, there is no app available for this particular casino. However, you can still find out about all the exciting events, promotions and offers that are taking place at this casino by visiting their website or social media accounts
What Is The Dress Code At Casino Royale Las Vegas?
This establishment does not have a strict dress code, but it does ask that its guests remain respectful of other patrons by dressing appropriately for the atmosphere. It is recommended to avoid any clothing that could be considered offensive, such as profanity or vulgarity.
Is There An Airport Shuttle Available From Casino Royale?
No, there is no airport shuttle available from this casino. However, there are many transportation options to and from the Las Vegas Airport.
From taxi services to ride-sharing apps, you can easily get a lift to or from the hotel. For more information about transportation options, please visit their website for more details.
What Is The Smoking Policy At Casino Royale Nevada?
The smoking policy at this casino is similar to most other casinos in the area. Smoking is not allowed inside the building, but there are designated smoking areas located outside.
What Is The Pet Policy At Casino Royale Las Vegas?
Unfortunately, pets are not allowed inside the casino. Service animals that have been trained to perform a specific task for their handler are permitted and must remain on a leash or in a carrier at all times.
If you plan to bring a service animal with you to the casino, please make sure to contact them prior to your visit so they can provide further information on their pet policy.
Is Wifi Available At Casino Royale?
Yes, the property offers free WiFi for all guests. If you need assistance with the connection, please visit the front desk or contact them via phone and they will be happy to assist you. They also offer a variety of other services such as printers, photocopying and faxing.
What Is The Cancellation Policy For Casino Royale & Hotel?
Any cancellations must be made at least 48 hours prior to your reservation. If you fail to notify them of a cancellation within this timeframe, then you may be subject to a penalty fee or full forfeiture of your deposit.
Please note that the hotel's cancellation policy may vary depending on the circumstances and length of stay, so it is recommended to contact them directly for more information.
Conclusion
Casino Royale is a great place to visit if you are looking for an exciting gaming experience. They offer a variety of slots, table games and poker tournaments, as well as other amenities such as WiFi and valet parking.
It is important to keep in mind that the property enforces a strict age policy and requires guests to abide by the dress code, smoking policy and pet policy while on the premises. Additionally, they have a cancellation policy that must be followed in order to avoid any penalties.
By understanding what is available at this casino and following all of its policies, you can ensure an enjoyable and safe visit. So grab your chips and get ready to have some fun!