Casino Royale Las Vegas
Since the closing of the old O'Sheas a few years back (a new, less colorful O'Sheas has since taken its place), Casino Royale stands as one of the last "low rent" joints on the Las Vegas Strip.
Casino Royale is different than any other casino on the Strip. For while the Arias and Cosmopolitans take over Las Vegas with $25 minimum table games and $300 room rates, Casino Royale, (with its $5 craps tables and $3 beers) offers a welcome reprieve from the increasingly expensive Las Vegas Strip scene.
The Casino Royale is part of the Best Western hotel chain, so that probably tells you something right there. It has 152 rooms, ("newly remodeled," says the website), on four floors. The rooms are nothing fancy, and can be noisy, due to the fact the hotel is so close to the Strip.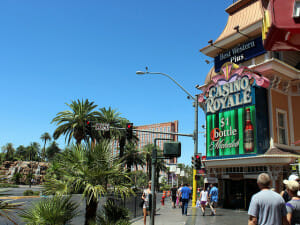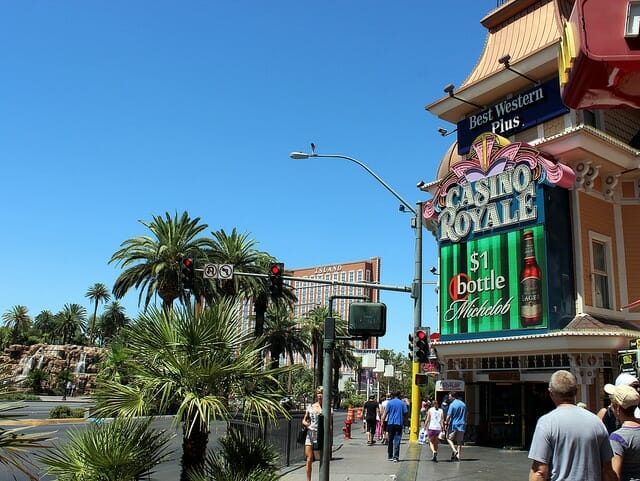 In fact, that's one of the great appeals to staying and/or playing at Casino Royale: it's close and convenient north center-Strip location. The hotel/casino occupies some great Strip frontage, right in-between Harrah's and the Venetian, and directly across from the Mirage.
On top of that, the casino floor and hotel are the closest accommodations you can have to the Strip without sleeping on a bus bench. The machines are literally around ten feet from the Strip entrance, and the hotel rooms are just a short walk through the casino from there.
It's so unlike the Vegas mega-resorts, such as the MGM Grand, where I calculated our room was honestly around a 1/4 mile walk to the Las Vegas Strip sidewalk.
Beside proximity and a great location, Casino Royale's other drawing point is their affordability.
The casino offers a variety of low limit table games, slots, video poker, and some table games not commonly found, such as Blackjack Switch and Free Bet Blackjack. The casino also still offers $5 blackjack, (single deck to boot!).
While they no longer offer 100x odds on the craps, they still have $5 minimums with 3/4/5x odds. These are the lowest limits you'll find on the Las Vegas Strip, (or just about anywhere for that matter). Please note that there have been $10 minimums here at night sometimes.
Casino Royale does not have a poker room. They do have one of those William Hill Sportsbooks here however.
On the slot front, the floor machines include the original old school Wheel of Fortune machines (my favorite) in denominations as low as a quarter. There's also most of the newest, and popular slots, with limits starting at a nickel.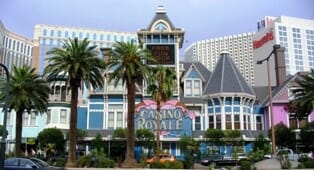 Casino Royale Drink Specials
You also can't complain about the beer prices at Casino Royale. For years, they've been bringing in cheap drunks like me with a $1 Michelob offer (and Coors Light too). Then they went to $1.99. Nowadays, they sell bottled beer for $3. This includes Corona and Heineken however.
If you put a $20 into the video poker machine and play a few hands, the bartender will give you a free beer, including craft beers. Otherwise the craft beers are $5.
Besides the former $1 beer special, something else that survived hasn't survived is their long tradition of selling $1 frozen margaritas. This promotion is apparently a victim of Fat Tuesday, the famous daiquiri bar where you choose from a selection of what seems like 4,000 flavors.
Apparently the owners of Fat Tuesdays didn't want to have to complete with $1 margaritas. Still, Casino Royale is the one of the few places on the Strip where you can always pop in and pick up a $3 beer to refresh yourself on your walk to somewhere else.
Casino Royale Restaurants
Catering to the lower-end gamblers (like myself), Casino Royale's dining options are moderately-priced as well.
Although it has been a fixture at the casino for awhile, the Casino Royale's Denny's has been moved and remodeled, with a new entrance accessible from the Strip. It is always crowded and can be a nice change of pace from the expensive meals and breakfasts in places like the numerous Venetian restaurants next door. Denny's states it is the busiest Denny's in the nation.
Also found at Casino Royale is the popular hamburger joint, White Castle.
The restaurant is accessible from the north side of the casino, and is a great treat, for those of you who enjoy the unique 2 inch by 2 inch steamed sliders.
Here are some of the other restaurants, both on the main level and upstairs:
Outback
The Outback is upstairs, above the casino, and is open from 11 a.m. to 1 p.m., in case you don't have one in your hometown, which you do.
It's one of just two Outback Steakhouses on the Las Vegas Strip.
Subway
You obviously have one of these near your home, but still, it's a nice to have an affordable, healthy option in Las Vegas. Speaking of which, there's also the…
$2.99 Foot long Hot Dogs
Yes, that's their name, which sort of spells out what they offer. If you want a foot long hot dog for breakfast (and who wouldn't?), they open at 10 a.m. daily, closing at 2:30 a.m. on weekdays and 4 a.m. on weekends.
And in case you are wondering, the previous Casino Royale $1.99 foot-long hot dog special is no longer.
Pizza Hut
This has replaced the former Noble Roman Pizza
Ben & Jerry's
Never mind their annoying politics, these Vermont liberal hippies make great tasting ice cream. The Ben & Jerry's at the Casino Royale opens at 9 a.m. daily (yes, really) and closes daily at 11 a.m.
Some other information:
Casino Royale's Mailing Address and Phone Number:
3411 Las Vegas Boulevard
Las Vegas, NV. 89109
Phone: (800) 854-7666
Casino Royale History:
Located on the former site of what was called the "Nob Hill Casino," which had opened in 1979 and closed in 1990. Casino Royale was rebuilt and opened on January 1, 1992. It just seems a lot older.
Overall, Casino Royale is a welcome change-of-pace from the Venetians and Wynns of the world. With its low limit games, cheap beers, and homey atmosphere, it sticks out of the Las Vegas Strip like a sore thumb – but in a good way.
(By Steve Beauregard Photo courtesy of Abi Skipp via Flickr).