Harrah's Las Vegas Parking Fee 2023: Valet, Map & Directions
Although it is surrounded by shiner, fancier neighbors, the newly remolded Harrah's Las Vegas Hotel and Casino remains popular with affordable rooms and a central-Strip location that is hard to beat.
The location is so good, in fact, that many non-hotel guests use the Harrah's parking garage as a jumping off point to explore resorts up and down the Strip.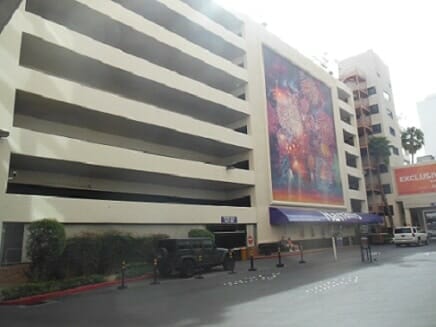 Harrah's Las Vegas Parking Fee
These fees apply to hotel guests and visitors alike. Recently Harrah's went to a flat rate fee for weekends. Current rates are as follows:
| | |
| --- | --- |
| Monday – Thursday | |
| First Hour | Free |
| 1 – 3 Hours | $15 |
| 3 – 24 Hours | $18 |
| Each Additional Day | $18 |
| | |
| --- | --- |
| Friday – Sunday | |
| First Hour | Free |
| 1 – 24 Hours | $23 |
| Each Additional Day | $23 |
| Harrah's Las Vegas Hotel Guests | $18 |
The prices above are raised during holiday weekends and other special events. On those days (think Labor Day, New Year's Eve, etc.), traditionally the rate for hotel guests has remained $18 for 24 hours.
Free Parking at Harrah's Las Vegas
Registered guests at Harrah's no longer receive complimentary self-parking.
However Caesars Rewards Card members (the player's card for Harrah's Las Vegas and other Caesars Entertainment properties), who have reached Platinum, Diamond or Seven Stars status receive free parking.
(Go here to find: free parking on the Las Vegas Strip.)
Also, residents of the state of Nevada who have government identification receive free parking for three hours.
Drivers going into the parking garage will receive a ticket when entering. They will then use a self-serve kiosk to pay before leaving.
Harrah's Las Vegas Parking Map
(The black star is the Strip entrance. The purple star is the back entrance, while the yellow star is the valet area).
Harrah's Parking Location
Harrah's self-park parking garage is located behind the hotel and casino, to the east of the resort.
It consists of a seven story structure that is attached to the casino on the garage's second level. The clearance for this parking structure is 6 feet, 11 inches. Over-sized vehicle parking is not available at Harrah's. Over-sized vehicles will have to use a lot at the Flamingo.
There is also a lot that Harrah's own behind the resort in which they allow you to park your R.V. However in both cases (arriving in an oversized vehicle and/or R.V.), you must contact Harrah's first to make sure they have a spot available for you. Please also note that the Harrah's Las Vegas R.V. parking area is just parking only. There aren't any utility hook-ups available.
Parking Policy
A registered guest at Harrah's will be able to use their hotel room card to self-park at a different Caesars Entertainment hotel that day, however I believe you'll have to pay a new fee. (Caesar's website isn't clear on that, and I haven't driven to a different property to find out).
Harrah's Las Vegas Hotel Valet Parking Fee
Only flat daily rates are offered, instead of the more affordable hourly options. Harrah's Las Vegas valet fees are currently:
| | |
| --- | --- |
| Monday – Wednesday | $36 |
| Thursday – Sunday | $40 |
Holiday and Special Event valet parking is "subject to change" (meaning "much higher.")
As with Harrah's self-parking program, valet parking will be free for anyone who reached Platinum, Diamond, or Seven Stars status on their Caesars Rewards card. The valet tip is not included in the valet parking cost.
Customers not staying at Harrah's do not have free in-and-out privileges. In other words, you pay a valet fee then leave, and come back? You pay a brand new valet fee.
Also, if you're staying at Harrah's and choose the valet parking option, you will have the valet parking fee charged to your hotel room bill.
Directions to Harrah's Las Vegas Parking Garage
Although Harrah's has just one large parking garage, there are two different ways to get there: from the Strip, and from behind the hotel.
From the Strip
Getting to Harrah's parking garage when going north on the Strip is easy, but when going south, it can be a hassle. More on that in a second.
First though, when going north on the Strip (towards the Venetian as a point of reference), you simply take a right just after passing the Linq Hotel and Casino.
It's very easy, as this takes you underground, below the Carnival Court party and retail area – meaning you don't have to wait for pedestrians to cross or anything.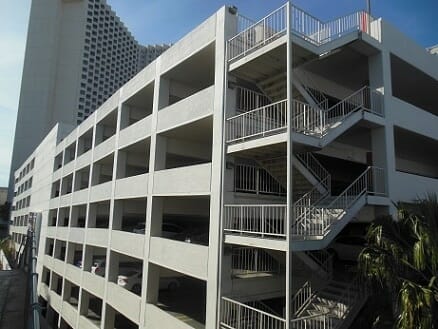 When going South on the Strip, (towards the Bellagio), you'll notice, at the southernmost end of Harrah's and almost past it, a left-hand turn lane in the far left side of Las Vegas Boulevard.
This left lane allows you to turn into the underground driveway entrance, just as it would if you were going northbound and made a right.
The difference, however, is that there is not a stop light or turn signals to make this left-hand turn into Harrah's. Because the Strip can be wall-to-wall vehicles at night (and sometimes during the day), you may have a long wait to make a successful left hand into the parking structure.
Either way, the underground driveway leads you to the back of the resort, where signs will point you to a left hand turn, enabling you to enter Harrah's self-park parking garage.
From Behind the Resort
Often times this is the easier, less crowded way to get to Harrah's parking garage.
You reach the parking garage from one of two roads east of the Strip, right behind all of the big resorts. One is called, "Linq Lane."
When driving on E. Flamingo Road, Linq Lane is the first left you can take after the Strip. Taking Linq Lane will lead you to Winnick Avenue, at which point you'll want to take a left towards and under, the High Roller Ferris wheel.
Signs will point you up a little ways to Harrah's white multi-story parking garage, which will be on your left.
The other main road you may take to get to the garage is called "Koval." It's a busy street that runs parallel to the Strip, (and longer than Linq Lane).
On Koval, you can get to Harrah's by turning into Winnick Avenue (there is good signage on Koval showing you the way), however most people use the entry way near the Venetian.
This road is Krueger Drive, although there is not a street sign for it for some reason, but large signs and specific turn lanes let you know the specific lane for access to either Harrah's or the Venetian's self-parking garage.
Once you are on this unnamed road, stay in one of the two far left lanes, as the right lane will take you to the Venetian parking area.
At a fork in the road, you'll have the option of going straight, to the Harrah's valet and/or hotel registration, or staying left, to the self-parking area.
If you're wanting to park yourself, staying in one of the left lanes will very shortly have you at the entrance to Harrah's self-parking garage entrance, which will be on your right.
(Related: (Linq parking garage).
Valet Parking Directions at Harrah's Las Vegas
As mentioned above, going straight at the fork in the road off of Koval Lane will lead you down a side road to the hotel. Harrah's valet parking area (The yellow star on the map above), and hotel registration area will be marked by signs, and you will take a left hand turn off of this road to get there.
(Photos are property of gamboool.com.)