Circus Circus Las Vegas
The Circus Circus Hotel and Casino in Las Vegas is one of, if not THE, most affordable lodging option directly on the Strip. And by "affordable," I mean flat-out cheap. (You can still occasionally see room rates listed on places like Hotels.com and Expedia under $30. In fact a recent sale had rooms at just $25 per night!)
Added to that is the fact that parking at Circus Circus is free.
Be warned though, in terms of class and wow factor, this resort is far from its hay day, back when an actual James Bond movie was filed at the resort, "Diamonds are Forever" back in 1971.
It's easily found when driving on the strip, thanks to its huge, iconic smiling clown sign.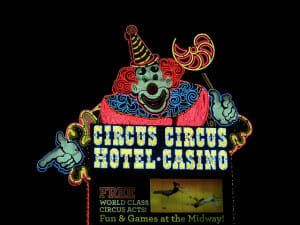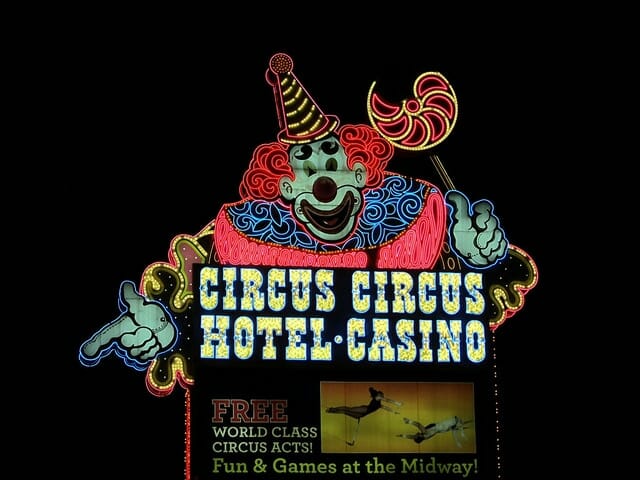 It's one of the oldest hotels on the Strip, having been built in 1968. In fact, there are only 3 other Strip hotels older than Circus Circus: the Flamingo, the Tropicana, and Caesars Palace, which opened in August of 1966.
Circus Circus actually opened on October 18, 1968, and was built by Jay Sarno, who also built Caesars Palace.
Interestingly enough, when the place opened, it didn't even have a hotel – just a casino.
Later they would add the hotel, designing it in keeping with the circus theme. With its carnival games and big-top architectural style, Circus Circus quickly became a one-of-kind resort and experience. While it may seem sort of cheesy and dated now, the Circus Circus of the late 1960's and early 1970's was stunningly unique, with a theme that stood out from the more traditional Rivieras, and Desert Inns of the time.
Along with many other casinos of the 1960's and 70's, Circus Circus had some mob ties. Tony "the ant" Spilotro, operated the gift shop at Circus Circus during the early 1970's. Spilotro was the inspiration behind the character Nicky Santoro in the classic movie, "Casino." Nicky, of course, was played brilliantly by Joe Pesci.
Circus Circus Resort Fee 2023
The daily resort fee for guests staying at Circus Circus is $37.42 after tax.
It includes in-room wireless internet access, use of the fitness center, boarding pass printing, and unlimited local calls.
Circus Circus Address & Phone & Website
2880 South Las Vegas Boulevard
Las Vegas, Nevada, 89109
Phone: 800-634-3450
Website: CircusCircus.com
Casino
The casino has approximately 126,000 feet of gambling space and is one of the last places on the strip to still offer $5 blackjack tables.
It's north Strip location makes it a fairly long haul to the exciting center-strip properties like the Bellagio, or Caesars, yet it offers a convenient home base for those of you planning to spend a lot of time exploring the Encore, Wynn, Palazzo, Venetian and/or the Fashion Show Mall.
Next door to Circus Circus is a fun, little old school joint called Slots-A-Fun. It used to be famous for their 99 cent half pound hot dog, which I should NOT have tried hung-over. But that's all I'm going to say about that.
Adventuredome
The Aventuredome Indoor park at Circus Circus is one of its biggest draws. The popular park has 25 attractions, including roller coasters, spinning rides, inverting rides, and a Dora the Explorer 4-D movie, which I will probably have to take my daughter to the next time we're in Las Vegas.
A sometimes even scarier ride called "Holy Matrimony" be found inside the resorts own wedding chapel. It's called, Chapel of the Fountains, and Circus Circus calls "the first and longest running hotel chapel in Las Vegas."
Circus Acts at Circus Circus
The resorts high-wire and other circus acts start just a little after 11 am every day, and run every half hour or so until midnight.
One interesting tidbit about Circus Circus: they still have some of the old coin in, coin out machines, for those of you (like me), who miss the old "CLANG CLANG CLANG" sound of a nice jackpot.
Formerly a larger KOA campground, the RV Park at Circus Circus now is a scaled back 170 space version, but complete with its own swimming pool, hot tub, laundry facilities and gift shop. The RV park is situated to north of the resort.
It's the best option for RV'ers who want close, easy access to excitement of the Strip. The Circus Circus RV park is the only RV park on the Las Vegas Strip.
(Go here to see how many casinos are on the Las Vegas Strip.)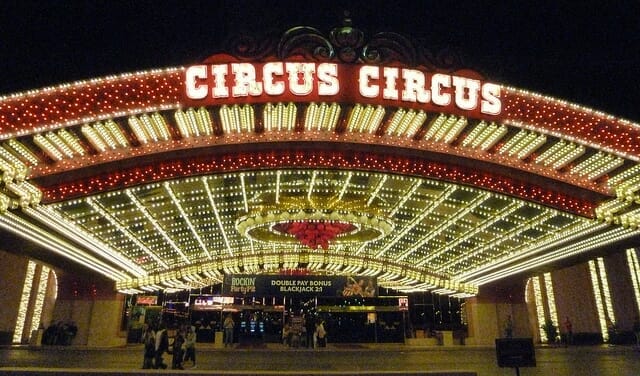 Between the Sahara Las Vegas Hotel and Casino, the new Fountainebleau across the street, and the newer Resorts World, Circus Circus has the potential to be a convenient, affordable options right in the center of the action, similar to what Harrah's is now for the center-Strip.
I say "potential" because the reviews of Circus Circus on places like "Yelp" are nothing short of brutal. Most of the complaints center on outdated rooms, the smell of weed everywhere, and a low rent clientele and a general overall dirty, run-down feel.
Hopefully, owner Phil Ruffin (who also owns Treasure Island down the Strip), will either refurbish this property to its former glory, or tear it down and start fresh.
(By Steve Beauregard. Photos courtesy of David Stanley and Phil Whitehouse via Flickr).