Circus Circus Las Vegas
Address: 2880 S Las Vegas Blvd, Las Vegas, NV 89109
Phone Number: +1 702-734-0410
Website: www.circuscircus.com
Hours: Circus Circus is open 24 hours a day, 7 days a week.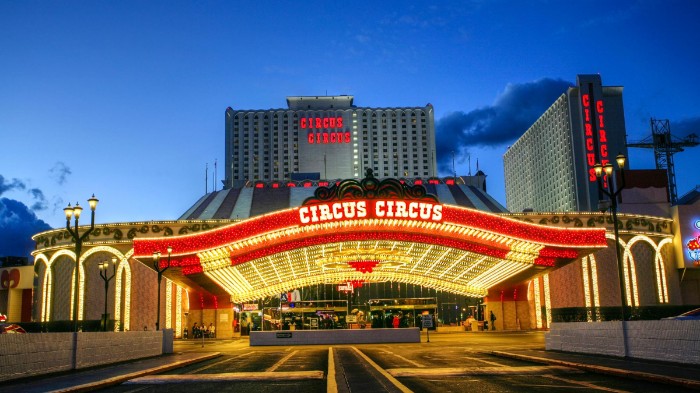 Circus Circus is a world-famous resort and casino located in the heart of the Las Vegas Strip. It was originally opened as a family-oriented casino in 1968 by Jay Sarno and Stanley Mallin. While the resort largely catered to families, it also offered its iconic circus and trapeze acts.
Currently, the property is owned by Phil Ruffin and has undergone several renovations over the years to keep up with changing times. Today, it offers world-class entertainment, casinos, restaurants, classic circus acts and games, and the Adventuredome.
In the years since its opening, the casino resort has become a destination for tourists seeking an exciting adventure in Las Vegas. Its 123,928 sq ft gaming space offers something for everyone, from slots to video poker and table games.
In addition to gaming, guests can enjoy a variety of entertainment options, including live performances and shows. From classic circus acts to rock concerts, there's something for everyone at this casino.
For those looking to grab a bite to eat after a long day of gambling or sightseeing, the resort offers multiple restaurants as well as bars and lounges. From casual dining to fine wine, there's something for every taste.
On top of all that, guests can take a break from the action and stay in one of the resort's luxurious rooms or suites. From high-end accommodations with breathtaking views to budget-friendly rooms, there's something for everyone in this casino.
Overall, guests rate this casino highly. On TripAdvisor, it currently holds an average rating of 4 out of 5 stars. One guest said, "This casino is a great place to go for some fun, with plenty of games and entertainment options. The staff was friendly and helpful."
Another reviewer commented, "We had a great time at Circus Circus Vegas! Everything was clean, the staff was friendly, and the location is perfect – right on the Strip!"
(Related reading: Nevada casinos)
Gaming
This casino features over 2,200 slot machines, video poker and other electronic gaming options. It also offers a variety of table games such as blackjack, craps and roulette.
Table Games
When you visit this casino, you'll surely never be bored. The casino has an impressive selection of table games, so no matter your preference, there will surely be something for everyone.
Take a chance at winning big as you join one of their eight-deck Blackjack tables. Or, if the dice call your name, try your luck on Craps. As for those who prefer spinning the wheel, enjoy both virtual and live Roulette.
Finally, Three Card Poker is also available to turn up the heat if you're feeling extra daring. So if you're looking for a more classic gaming experience in Las Vegas, head over to this casino and get ready to have some fun.
Table game minimums may vary in this casino. Typically, you can start betting for as low as $5 on most table games. However, these minimums may vary due to promotions or other events. It's always best to check with the casino before you start playing.
Slots
Has Vegas got you feeling lucky? Well, a trip to this casino is sure to be your lucky charm. This classic resort features some of the most popular slot machines around.
If playing for coins is more your style, then give their Classic Coin Machines a try. You can also hit the jackpot by playing Slots A Fun with quarters.
Prefer something a bit more traditional? Try your hand at Magnificent 7's or Play the Carousel. And don't forget your Video Poker and Keno games too.
The average slot machine payback percentage at this casino is reported to be 92.56%. Fun fact, this is actually considered high compared to other casinos in the area!
Hotel/Resort
Experience Las Vegas in style when you stay at this casino resort. They offer a variety of room types, from basic to luxurious. Currently, the property boasts over 3,700 rooms and suites with spectacular views of the Strip.
Offering something for everyone, the Skyrise Tower provides newly refreshed rooms filled with everyday comfort in jewel tones. Favorites amongst guests include the Double Queen Rooms, which are outfitted with everything you need for your stay.
For those looking for a modern touch and functional design, the West Tower offers Double Queen, King and Large King rooms.
If you happen to be searching for a room adjacent to the casino floor, the Casino Tower is your best bet – these rooms are decorated in contemporary jewel and earth tones and offer Double Queen, King and Large King options as well.
Last but not least, if you're looking for desert-sunset tones and updated furnishings plus TV and Wi-Fi internet access, check out their Manor Motor Lodge. There you will find Double Queen, King and Double King rooms perfect for any length of stay.
Each room is equipped with modern amenities, such as well-lit work desks and ergonomic chairs, flat-screen TVs, a refrigerator to store your snacks and drinks, as well as complimentary Wi-Fi internet access.
This casino resort offers plenty of amenities that guests can enjoy during their stay. The property features:
High-speed internet access
The Adventuredome
Carnival games
Free circus acts
Free parking
Resort
Retail stores
Spa and salon services
Various on-site dining options
RV park
The cost to stay at this casino resort varies depending on the room type and length of your stay. Generally speaking, prices range from $59 per night for standard rooms up to $399+ per night for suites.
Prices may also change due to promotions or special events. It's always best to check with the resort directly for the most up-to-date pricing information.
Check-in time at Circus Circus is 3:00 pm
Check-out time at Circus Circus is 11:00 am
Restaurants & Buffets
If you're looking for somewhere to get delicious food in Las Vegas, then this is the place to be! The Steak House, with its mouth-watering range of steaks and seafood, is sure to tantalise your taste buds.
Or get your Mexican fix with Blue Iguana, wash it down with a margarita at one of the onsite bars, such as West Bar or Big Chill and chill out.
If you want something more casual, Circus Circus also has plenty to choose from with endless options like Pizzeria; Big Top Eats and Quick Eats, which offers snack options like Starbucks, Krispy Kreme, Aunt Annie's and Popeye's.
And if you're hungry for something big – big as in all-you-can-eat – then don't miss out on their famous Circus Buffet, where prices are between $22.99 – $27.99 per adult.
Pools
Come and cool off at this casino resort's two refreshing pools and relaxing whirlpools. Let out your inner child while playing in the Splash Zone full of water cannons, spill buckets, rain trees and other fun interactive activities.
Take a daring plunge down their mighty 50-foot slide tower, or relax in one of the plush Cabanas for a sheltered experience. Each cabana offers lounge chairs for your comfort and comes with amenities like a mini refrigerator, TV, safe, and storage cabinet.
No matter where you choose to hang out, have some summer fun in Vegas with all that this casino has to offer.
Circus Circus Las Vegas, NV FAQ
Does Circus Circus Las Vegas Have A Sportsbook?
Although this casino may seem like an ideal spot for sports fans to catch up with their favorite teams, it, unfortunately, does not feature a sportsbook. It is worth noting, however, that there are plenty of other highly rated sportsbooks dotting the Las Vegas strip.
Additionally, there are still plenty of opportunities to get in on the action right here at this establishment. The casino offers a wide selection of table and card games, including blackjack and roulette, as well as slots, video poker machines and more.
Is Poker Available At Circus Circus?
Yes, poker is available for players at this casino. Guests can enjoy tons of action and excitement with a variety of poker games spread across the casino floor. Some of the most popular games include 3-Card Poker.
For those looking to really hit it big, check out their tournament schedule which regularly lists special events with large prize pools.
What Are The Age Requirements For Gambling At Circus Circus Las Vegas?
The minimum age for gambling at this casino is 21. Guests must have a valid ID (Driver's License, passport or state-issued photo ID) to access the gaming floor and take part in any activities available. All patrons under the age of 21 will be asked to leave the casino area immediately.
Does Circus Circus Have An Online Casino?
No, this casino does not have an online version. However, guests can enjoy a variety of games right here at the hotel and casino.
The gaming floor features lots of slots, table games, video poker machines, and more. Additionally, players can take advantage of the wide variety of promotions and special deals offered daily.
Is There An Circus Circus Las Vegas App?
No, this casino does not offer any applications. However, guests can still take advantage of the many amenities and services available at the hotel and casino. Make sure to check out their website for more information about their offerings.
What Is The Dress Code At Circus Circus Casino & Resort?
The dress code at this casino is casual and relaxed. Guests should feel free to wear whatever makes them comfortable as long as it adheres to the property's general rules and regulations.
Is There An Airport Shuttle Available From Circus Circus Las Vegas?
No, there is no airport shuttle available from this casino. However, guests can take advantage of the many transportation options offered in the area. Guests can easily access taxis and Uber services near the property or choose to rent a car for their stay.
What Is The Smoking Policy At Circus Circus?
This casino has a designated smoking area located outside the main building. Guests are asked to refrain from smoking in all indoor areas, including hotel rooms and hallways. Additionally, guests must adhere to the property's general rules and regulations when it comes to smoking.
What Is The Pet Policy At Circus Circus Casino & Resort?
Unfortunately, this casino does not allow pets on the property. All guests must leave their furry friends at home while visiting the hotel and casino. Service animals, however, are always welcome.
Is Wifi Available At Circus Circus Las Vegas?
Yes, this casino offers complimentary wifi to all guests. Guests can easily connect to the internet when they arrive or even before they arrive through the property's website. Guests can also access free wifi in their hotel rooms and throughout the main building.
What Is The Cancellation Policy For Circus Circus?
This casino offers a 72-hour cancellation policy. Guests can cancel their reservation up to 72 hours prior to the scheduled arrival date without penalty. Any cancellations made after this time frame will be subject to a full charge of one night's stay plus applicable taxes and fees.
Conclusion
Circus Circus Las Vegas is a great destination for gamblers of all ages looking to experience the thrill and excitement of gambling in an iconic casino.
Guests can enjoy various games, promotions, and more while taking advantage of the property's many amenities and services. The casino also offers complimentary wifi and plenty of transportation options nearby for guests to take advantage of.
Whether you're looking for a night of entertainment or want to relax and have a good time, this casino resort is the perfect destination for your next getaway.