Clonie Gowen Lawsuit Against Full Tilt Poker
By Steve Beauregard
A small town Oklahoma girl who made big time on the international high-stakes tournament poker scene, Clonie Gowen burst onto the poker world at just the right time. A couple of high-profile early tournament scores, combined with her gorgeous looks and a sweet personality helped propel her into the stratosphere of poker stardom.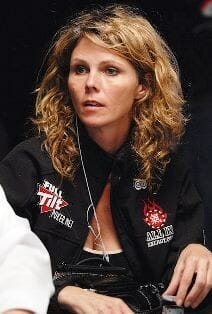 And yet, despite over $1.6 million in career tournament earnings, TV appearances, and status as one of the most famous people in poker, Clonie Gowen has all but disappeared from the poker world. Other than her lawsuit against Full Tilt Poker (more on that in a second), she really hasn't been heard much on the tournament scene since January of 2009.
Clonie Gowen Full Tilt Poker Lawsuit
Clonie Gowen has told Card Player that she signed with Full Tilt poker even before appearing on "Ladies Night Out" in 2003. In fact, she was a member of Full Tilt before the site even went live.
In April of 2006, Gowen sent out one of the "Tips from the Pros" emails that all of the Full Tilt sponsored players would send on occasion. This "tip" however contained a full paragraph that was copied almost exactly as-is from a post on the popular poker forum, Pocketfives.com. Clonie subsequently apologized, blaming the error on her editor.
On November 11, 2008, Full Tilt informed Gowen that she was being let go.
Three days later, on November 14, 2008, Gowen sued Full Tilt Poker (where she had been a sponsored pro), along with the parent company, Tiltware, and individuals associated with Full Tilt, including Ray Bitar and Howard Lederer, over what she claims was an unwritten agreement in which she was allegedly promised 1% of the company, which some estimated at $40 million dollars.
(Here's an interview with Clonie)
The lawsuit also named just about all of the big names at Full Tilt, including Phil Ivey, Chris "Jesus" Ferguson, Jennifer Harman, Gus Hanson, Erick Lindgren, and others.
In the lawsuit, she claims that she never received compensation from Full Tilt for print ads, nor did she receive compensation for tournament entries. The 20 page document is vague however, and it's widely assumed she received free tournament entries into the numerous WPT and WSOP events, especially since she was always "patched up" as they say, with Full Tilt logos.
Instead, Gowen says she was promised (by Ray Bitar and others in a 2004 meeting in Phil Ivey's suite at the Golden Nugget) a 1% ownership in the company, and is owed $40 million. The agreement was never apparently put in writing however.
The lawsuit also claims that in November of 2007, Howard Lederer offered her $250,000 as sort of a payment for past services.
Gowen turned this town, as her claimed 1% ownership would be worth much more. The lawsuit also claimed that she, unlike other Full Tilt pros, never received cash disbursements.
In February of 2010, the lawsuit was dismissed, however Gowen's lawyers appealed, and in June of 2011, the dismissal was reversed. What this meant was that Gowen was free to proceed with the lawsuit. Unfortunately for Gowen, this occurred shortly after poker's Black Friday, and Full Tilt was basically out of business.
What is Clonie Gowen Doing Now?
While she used to live in Sachse, Texas Clonie Gowen also had a beautiful condo at Panorama Towers in Las Vegas – the high rise penthouse that is the unofficial headquarters of online poker stars. She told Kristy Arnett of CardPlayer at the time, that she loves yoga, workouts, and lying by the pool.
Since the end of her Full Tilt lawsuit, Clonie has disappeared from the public eye. Numerous poker forum boards share rumors of her living in Melbourne Australia, where rumors state, (just rumors) she has relocated and married a fireman.
From what can be publicly and easily gathered online, she has apparently married an Australian reality show contestant. She now goes by the name Clonie Villani and married Cameron P. Villani. According to an online marriage record site, a Cycalona A. Beatty (Clonie's former name) married Villani on June 25, 2011 in Collin County, Texas. She was 39 at the time, (born in 1972), while her husband was 34 at the time (born in 1977).
Although I cannot verify if they are one and the same, an Australian man by the name of Cam Villani was a firefighter who once appeared on the Australian version of "The Mole." The show was filmed in 2003, when Villani, was 26 years old. This would put him at 34 years of age in 2011, at the time of the wedding.
In addition, a poker training company called, "Big Slick Poker Academy," based in Carrollton, Texas, claims to have a Clonie Gowen as a part time instructor, starting in December 2012, although more recent Facebook postings and website pages no longer show her as an instructor.
The Hendonmob reports that in August of 2014, Clonie took 67th in a $550 No-limit hold'em tournament held at the Winstar Casino in Thackerville, Oklahoma, good for a $1,079 payday. Interestingly enough, T.J. Cloutier finished 12 in the same event.
According to Twitter postings, Clonie (who again uses her last name "Gowen") is involved in the poker tech industry, as a "Full-Stack web developer at Dealio Webcam Poker."
The fact is, Clonie Gowen does have $1.6 million in career tournament winnings. While it appears she never, (and likely will never) receive any money from her years endorsing Full Tilt, she is a successful businesswoman who has sold a travel business she started. Either way, she has certainly left her mark on the poker world.