Updated January 9th, 2021
Editor's note: Hopefully 2021 will see a return of the giant traditional July 4th's fireworks show, as last year's party was yet another Covid-induced cancellation. We'll update this article as soon as plans are announced. Until then, below is the article from previous year's celebrations).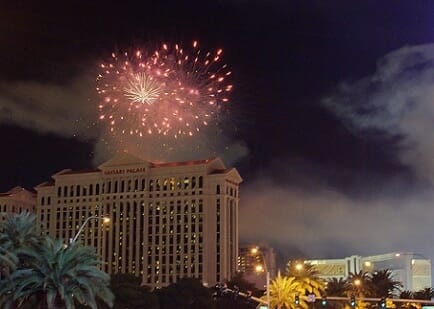 Las Vegas Strip Fireworks
Unlike you and I, the biggest party city in the world doesn't take a day off on the 4th of July.
Sin City goes all out on Independence Day, setting off thousands of fireworks that light up the nighttime sky over the Strip even more than usual. Last year, in 2018, over 320,000 people visited Las Vegas during the holiday.
Each Fourth of July (or the closest weekend to), fireworks are shot off from casinos on the Strip, Fremont Street downtown, as well as at some off-Strip casinos.
This year, the main Las Vegas Strip fireworks show will be at Caesars Palace on Thursday, July 4th at 9:15 PM.
Other displays in Las Vegas include fireworks shows on the south end of the Strip at Mandalay Bay, at the Plaza Hotel Casino downtown, in locals casinos off the strip, at the new baseball stadium (on July 3rd this year), and in the nearby suburb of Henderson.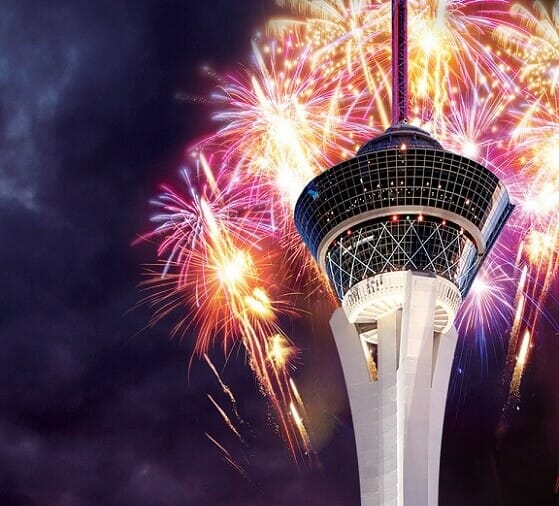 In fact, the online booking travel site Travelocity has put Las Vegas in the top five of the country's top 4th of July fireworks experiences.
Las Vegas Strip July 4th Fireworks
Unlike the coordinated, seven-casino fireworks extravaganza held annually on the Strip on New Year's Eve, Caesars Palace does the heavy lifting on the fourth of July.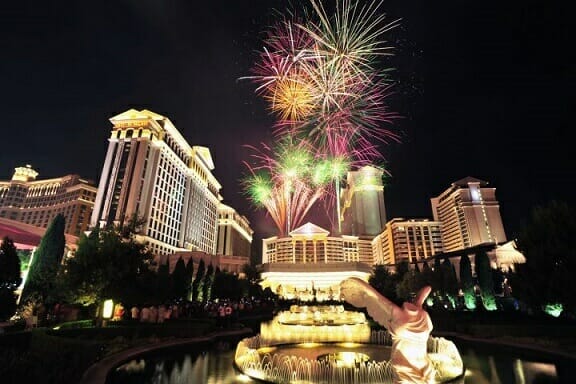 However Mandalay Bay will have fireworks this year too, on the 4th.
Caesars Palace Fireworks
Caesars Palace's Independence Day fireworks show is as follows:
Thursday, July 4th at 9:15 PM
Fireworks are set off from the top of one of their towers, the Julius Tower, and the show typically lasts for 13 1/2 minutes.
A professional fireworks company called "Fireworks by Grucci" has been in charge of the show for many years and is handling this year's production on the 4th as well, per Grucci's website.
Mandalay Bay 4th of July Fireworks
At the far south end of the Strip, Mandalay Bay Hotel & Casino returns with a fireworks show,
10:30 PM July 4th
These fireworks take place on Mandalay Bay Beach, the resort's elaborate and spacious swimming pool/beach area, and for the second year in a row will take place after a concert by the Mystic Roots. They're described as a "reggae-fusion group."
You can see the fireworks from beyond the beach, however if you want entry into the concert, ticket prices are $32.44 after taxes and fees. This is for general admission, standing room only.
July 4th Las Vegas Fireworks Viewing Spots
* Perhaps the best spot is at the Spanish Steps, right in front of Caesars Palace. There will be lawn games, a hot dog cart and drink specials all weekend, starting on Thursday the 4th.
Other than having a free viewing spot on the Strip itself, several casino bars and lounges provide fantastic views of the fireworks, but for a steep price.
I've personally watched the Caesars fireworks from the pedestrian bridge between Bally's and the Bellagio and found it to have great views as well.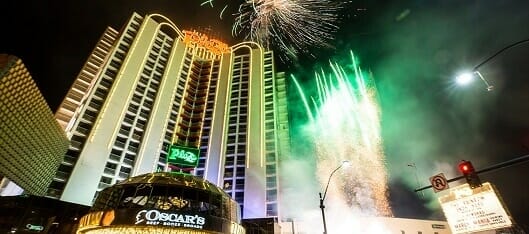 Most casinos will have some sort of viewing parties and drink specials. In addition, right across the street from Caesar Palaces' fireworks show, the Linq Promenade has a family-friendly pre-fireworks party, including a sunset parade of lights at 8 PM and a "Lights at the Linq" dance show.
Many of the bars and restaurants along the Linq Promenade will have drink and food specials on the 4th.
Las Vegas Fireworks Viewing Parties
* A great, (but pricey) viewing spot is directly across from Caesars at the brand-new bar at the Linq called Re:Match.
This bar sets right on the Strip. Their July 4th fireworks viewing party costs $91.27 (after fees), and includes an open bar from 9 PM to 10 PM.
* The Paris Casino's Beer Park, which overlooks the Strip and the fountains of Bellagio, offers free entry, but you need to print off an RSVP on their website. (Update: it appears all seating options here are sold out).
Before selling out, they offered reserved seating if you pay $50. However you did receive a $50 food and beverage credit with that. Drink specials include the "Freedom Bowl." For $45, you get a huge 50-ounce bowl filled with with Skyy Infusions Watermelon Vodka, watermelon juice, and two popsicles.
* At the Paris Las Vegas, you can pay $100 to watch the fireworks from atop the Eiffel Tower Experience, for one hour: from 8:30 to 9:30 PM. The price includes a frozen drink and a "keepsake light-up wristband." Tickets are available on Ticketmaster.com
* Margaritaville is the spacious bar/restaurant attached to the Flamingo Hotel & Casino, and being directly across from Caesars, offers wonderful fireworks views.
Their July 4th fireworks viewing party runs from 8 PM to 10 PM, and will set you back $131.50 (after fees). However it does include an open bar with appetizers and guaranteed seating on their 3rd floor patio.
* Clubs like Ominia at Caesars Palace and Drai's at the Cromwell have great Strip views, however neither has any sort of special viewing party for 2019 (as of this writing). Instead, they are saving their big names parties for the next day.
On Friday July 5th, Drai's will have a concert by Wiz Khalifa, and Calvin Harris will be performing at Omnia.
(You can get more information about the fireworks festivities at the Caesars Palace Blog or at the Caesars Palace website here: Caesars.com)
* Bird Bar at the Flamingo is right across the Strip from the Caesars fireworks. They host an party with an open bar from 8 PM to 10 PM on the 4th. Cost is $50.
The Stratosphere Hotel/Casino July 4th Fireworks
The "Strat" (as they're soon to be called), has yet to announce a fireworks show, and they haven't responded to my emails. So it appears they won't be having fireworks this year. In 2018, they held a show, but did not in 2017.
In 2018, the Stratosphere lit fireworks from their parking garage at 9:15 PM on the 4th.
Downtown Fremont Street Las Vegas Fireworks
It's sort of hard to see fireworks in the sky, when your view is blocked by a gigantic canopy, however that's now stopping one Fremont Street hotel from hosting a fireworks show again.
As was the case last year, Fremont Street will see a 2020 fireworks display, when fireworks are shot over the top of the Plaza Hotel & Casino on July 4th at 10 PM. Last year's short program lasted four minutes.
Last year, the party at the Plaza Hotel & Casino's Independence Day celebration took place at the rooftop pool area. It was free to watch from there, and the party started at 7 PM. It featured a hot dog eating contest and drink specials. There were even fun, $12 red/white and blue frozen drink specials. They won't have this party this year however.
In addition to the real fireworks, virtual fireworks are always part of the Fremont Street Experience light show during the Independence holiday weekend with a ballistic, patriotic display shown on the giant screen above the crowds.
Other Las Vegas-area Fireworks Displays
There are other options for those of you willing to venture off of the Strip.
Red Rock Casino & Green Valley Ranch Fireworks
The Stations Casinos chain of locals casinos annually holds a July 4th fireworks show, and they will continue that tradition this year. In past years, Texas Station and Fiesta Rancho Casinos have had fireworks shows and pre-parties, however that is not the case this year.
As in years past, this year both the Green Valley Ranch Resort in Henderson, and Red Rock Casino Resort & Spa in Summerlin, will have fireworks shows. This year's version features a tribute to first-responders.
The display will last ten minutes at each casino.
Green Valley Ranch – 9 PM on July 4th, 2020
In years past, GVR has concerts leading up to the fireworks show and a pool party open to the public. This year however, the party is reserved for invited guests only. Also, the Green Valley Ranch Fireworks Shuttle to and from the GVR Golf Club will not run this year.
Red Rock Casino Resort & Spa – 9 PM on July 4th, 2020
Those not staying at Red Rock can catch the show from the resort's south parking lot.
M Resort Fireworks
The M Resort Spa Casino will have fireworks, at 9 PM on Saturday, July 4th.
The city of Henderson and M Resort say there will not be public viewing locations. Last year, it was free to watch from the M Resort's pool area.
Lake Las Vegas Fireworks 2020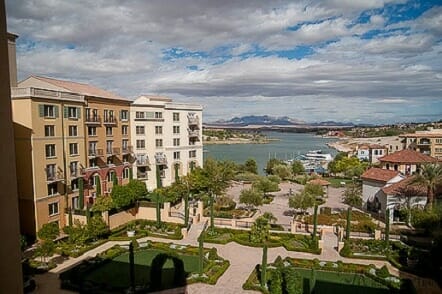 Located about 19 miles east of the Strip, the Lake Las Vegas resort area is once again hosting their annual fireworks display.
This year, fireworks will be shot off over the lake on Saturday July 4th at 9 PM.
The resort/community usually offers a fireworks lake cruise for $50 per person, however that appears to be cancelled.
Patriotic Music During the Fireworks
Four different Las Vegas radio stations will play patriotic music during the displays on Saturday. These include Sunny 106.5, 95.5 The Bull, 93.1 (the Mountain) and Real 103.9.
Summerlin Fireworks on July 4th
Summerlin is usually home to two different July 4th fireworks displays.
There's the show at Red Rock Station (see above), along with fireworks at the town's new impressive minor league baseball stadium: Las Vegas Ballpark.
Like with many other minor and major league baseball teams, the Las Vegas Aviators ball club typically hosts an after game fireworks display on either July 4th, or at the home game that takes place closest to the holiday.
This year, of course, the Aviators aren't in action – thus, no post-game fireworks show.
In addition, fireworks displays at the Las Vegas Motor Speedway have been cancelled, as have shows in Boulder City and Laughlin.
Henderson Fireworks
The city of Henderson, (south and east of the Strip), has cancelled their usual free fireworks show that annually takes place at 9 p.m. on July 4th at Heritage Park.
Water Park Fireworks
Cowabunga Bay – the popular east-side Sin City waterpark – usually has fireworks, but has not announced plans for this year.
On the opposite end of the valley, Wet n' Wild waterpark will have fireworks on the 4th. A dive-in movie, "Miracle" will play at 8 PM on Saturday the 4th, with the fireworks to follow.
Miscellaneous Fireworks Tidbits
* The weather for July 4th is typically hot (go figure), with an average daily high of 103.5 degrees. While temps during the fireworks show at nighttime will be cooler course, those are partially offset by all of the buildings and bodies trapping heat on the Strip.
* In 2014, (the first year the Linq promenade was open), Caesars Entertainment (owners of the Linq) held a July 4th fireworks display at 9:30. Fireworks were set off behind the High Roller observation wheel.
* In 2018, to celebrate their 20 year anniversary, the Las Vegas Philarmonic performed a "Star Spangled Spectacular" at the TPC Summerlin Gold Course, after which a fireworks display by Zambelli, ("The first family of fireworks"), took place.
Photos courtesy of InSapphoWeTrust, the Plaza Hotel & Casino, and Michael Cortina via Flickr).