July 4th Fireworks in Las Vegas 2023 – Times & Where to Watch
Updated January 5th, 2023
Editor's Note: Once plans are announced for 7/4/23, we'll update this article. Until then, below is the article about last year's festivities.
Unlike you and I, the biggest party city in the world doesn't take a day off on the 4th of July.
Sin City goes all out on Independence Day, setting off thousands of fireworks that light up the nighttime sky over the Strip even more than usual. According to the Las Vegas Convention & Visitor's Authority, over 320,000 people visit Las Vegas during the 3-day holiday.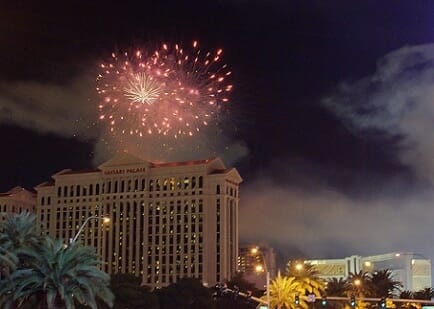 Each Fourth of July (or the closest weekend to), fireworks are shot off from casinos on the Strip, Fremont Street downtown, as well as at some off-Strip casinos.
This year, July 4th falls on a Monday, and perhaps because a lot of us have to go to work the next day, the Las Vegas Strip fireworks will be shot off a little earlier than in years past, at 8:30 PM (vs. 11 PM in previous years).
Other displays in Las Vegas include fireworks shows at the Plaza Hotel Casino downtown (on Monday, July 4th), in locals casinos off the strip, at the city's minor league baseball stadium, and in the nearby suburb of Henderson.
In fact, the online booking travel site Travelocity has put Las Vegas in the top five of the country's top 4th of July fireworks experiences.
Las Vegas Strip July 4th Fireworks Date & Time
Monday, July 4, 2022: 8:30 PM at Caesars Palace
Please note, this is when Caesars Palace says the party will start. The company putting on the display, Fireworks by Grucci, says on their website the show will start at 9 PM.
Either way, Caesars Palace will be the only Strip casino to light off fireworks this year.
In addition to the Strip, the six Station casinos off the Strip will have fireworks on the 4th, as will downtown. (More on that below).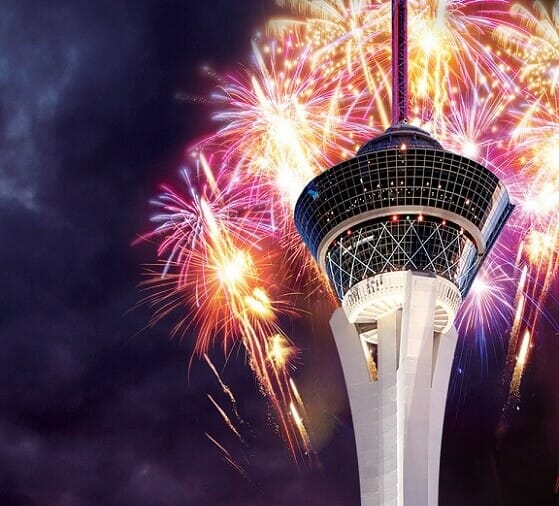 Last year, seven casinos joined forces in a coordinated show, in which fireworks are shot off from the top of their respective resorts. These included Caesars Palace, Aria, Planet Hollywood, Resorts World, The Strat, T.I. (Treasure Island), and the Venetian. For July 4th, 2022, however Caesars Palace is doing all of the heavy lifting.
Caesars Palace's fireworks are set off from the top of one of their towers, the Julius Tower. This year's show is expected to last around 8 minutes.
A professional fireworks company called "Fireworks by Grucci" has been in charge of the show for many years and will handle this year's production on the 4th as well .
July 4th Las Vegas Fireworks Viewing Spots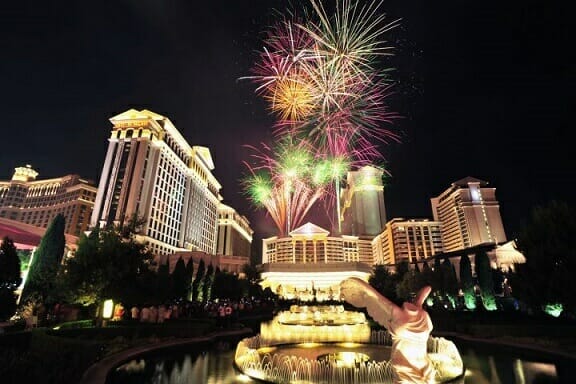 One of the better spots is the Purple Zebra bar at the Spanish Steps area, right in front of Caesars Palace, but expect it to be jam packed.
Other than having a free viewing spot on the Strip itself, several casino bars and lounges provide fantastic views of the fireworks, but for a steep price.
I've personally watched the Caesars fireworks from the pedestrian bridge between Bally's and the Bellagio and found it to have great views as well.
Most casinos will have some sort of viewing parties and drink specials. Many of the bars and restaurants along the Linq Promenade will have drink and food specials on the 4th.
Las Vegas Fireworks Viewing Parties
Most parties for 2022 have yet to be announced, but below are a few that have.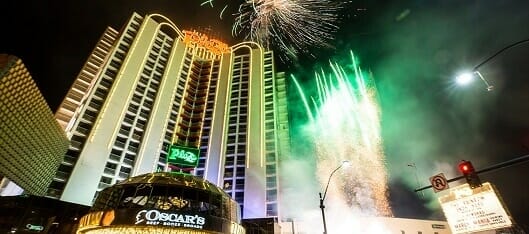 A great, (but pricey) viewing spot is directly across from Caesars at Margaritaville attached to the Flamingo Hotel & Casino. This bar sets right on the Strip. Their fireworks viewing party cost $135 per person, and included an open bar, appetizers, and guaranteed seating.
RE:match at the Linq is right off the Strip side and offers fantastic views as well. However it was one of the pricier parties I've seen. Last year's price was $157.97, (which included tax and tip), you got an open bar from 10 PM to 11 PM in a standing room only spot.
The Paris Casino's Beer Park, which overlooks the Strip and the fountains of Bellagio, is always busy on the 4th and tickets often sell out. For 2022, their site says that tickets for 4 people are $225 after fees, but include $200 food and beverage credit.
Clubs like Ominia at Caesars Palace and Drai's at the Cromwell have great Strip views, and they typically have big name artists performing on the 4th.
July 4th Concerts & Shows on the Las Vegas Strip 2022
Wanting more than just fireworks to pack into your Vegas Independence weekend? The Strip entertainment scene is busier than usual on the 4th, with a plethora of concerts, shows and sports. (I am an affiliate with Ticketmaster, and may receive a commission if you purchase via these links).
The more notable ones are as follows:
Brian Newman, (Lady Gaga's bandleader) performs at the NoMad Las Vegas (part of Park MGM) on July 1st – 3rd at 11:30 PM: Brian Newman tickets.
Sammy Hagar July 1st and 2nd at the Strat. Both shows at 9 PM.
Kevin Hart at the Cosmopolitan on Saturday the 2nd, and Sunday July 3rd. Two shows a night, at 7 PM and 10 PM.
WWE's Money in the Bank at MGM Grand Garden Arena on Saturday July 2nd at 4:30 PM.
Morrissey plays at the Caesars Palace Colosseum on Friday and Saturday. Both shows start at 8:30 PM.
Chris Rock has a one night performance, also at the Colosseum on Sunday July 3rd at 7:30.
Magic Shows: The lineup of magic shows July 4th weekend include David Copperfield at the MGM Grand and Shin Lim at the Mirage.
Other popular shows taking place all weekend include: The Blue Man Group at the Luxor, Carrot Top at the Luxor, and always-popular Cirque shows Mystere at Treasure Island, and "O" at the Bellagio.
Mandalay Bay 4th of July 2022
At the far south end of the Strip, Mandalay Bay Hotel & Casino used to have fireworks, but stopped a few years back. Nonetheless, their annual 4th of July weekend beach concert series returns.
This year's July 4th beach concert will feature Sublime with Rome on Saturday, July 2nd, 2022. Tickets start at $47 before fees as of this writing. This is for general admission, standing room only.
Downtown Fremont Street Las Vegas Fireworks
It's sort of hard to see fireworks in the sky, when your view is blocked by a gigantic canopy, however that's now stopping one Fremont Street hotel from hosting a fireworks show again.
As has become their tradition, the Plaza Hotel & Casino's Independence Day fireworks celebration will be:
Monday July 4th – 9 pm
The best viewing spot for these fireworks are at the Plaza's rooftop pool area. It will open at 7:30 PM but for hotel guests only. But those guests will be treated to a great view, along with a DJ and cocktail specials.
In addition to the real fireworks, virtual fireworks are always part of the Fremont Street Experience light show during the Independence holiday weekend with a patriotic display shown on the giant screen above the crowds.
Downtown shows over the Independence Day weekend include Gordie Brown at the Golden Nugget.
Station Casinos Off-Strip Las Vegas Fireworks Displays
There are other options for those of you willing to venture off of the Strip, including a synchronized display by six different casinos.
The Station Casinos chain of locals casinos annually holds a July 4th fireworks show. This year's show is as follows:
July 4th at 9 PM
The following Station Casinos will have fireworks displays and viewing parties, per their recent press release:
Red Rock Casino Resort & Spa
Green Valley Ranch Resort Spa & Casino
Palace Station
Sunset Station
Sante Fe Station
Boulder Station
Again, fireworks at all six casinos will start at the same time, 9 PM. In the past, these displays have lasted ten minutes.
In past years, two other Station Casinos, Texas Station and Fiesta Rancho, have had fireworks shows and pre-parties, however both of these casinos remain temporarily closed. Nevertheless, props to Station Casinos for putting on this huge display to celebrate America.
A couple of notes about July 4th parties and viewing spots at these six Station Casinos:
Green Valley Ranch
Starting at 7:30 PM, Green Valley Ranch has a viewing party at their beautiful pool area. Tickets are $25 for adults. There will be live music, but drinks are on your own.
Red Rock Casino Resort & Spa
Also starting at 7:30 PM, the Red Rock Resort's pool area is open for fireworks viewing. Tickets are $25.
Sante Fe Station – Free viewing from their parking lot.
Palace Station – Free viewing from their parking lot.
Boulder Station – Free viewing from their parking lot.
Sunset Station Hotel & Casino – Free viewing from the Sunset Amphitheater. Opens at 7 PM.
Lake Las Vegas Fireworks 2022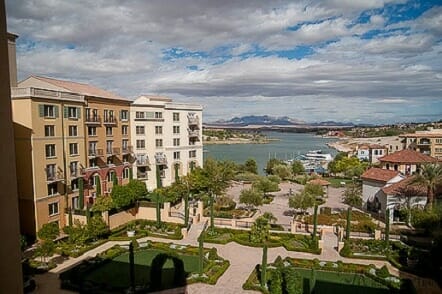 Located about 19 miles east of the Strip, the Lake Las Vegas resort area hosts an annual fireworks display. For 2022, they will take place on Monday, July 4th, with the display taking place over the 320 acre lake.
Patriotic Music During the Fireworks
In recent years, four different Las Vegas radio stations have played patriotic music during the displays. These include Sunny 106.5, 95.5 The Bull, 93.1 (the Mountain) and Real 103.9.
Las Vegas Aviators/Summerlin Fireworks on July 4th, 2022
Summerlin is usually home to two different July 4th fireworks displays.
There's the show at Red Rock Station (see above), along with fireworks at the town's impressive minor league baseball stadium: Las Vegas Ballpark.
Like with many other minor and major league baseball teams, the Las Vegas Aviators ball club typically hosts an after game fireworks display on or near Independence Day.
For 2022, the Aviators play at home against Round Rock, on Saturday July 2nd, and Sunday July 3rd. Both games will have fireworks shot off after the last pitch, but the Sunday game is billed as their "Fireworks Extravaganza."
Henderson Fireworks
The city of Henderson, (south and east of the Strip), is hosting a fireworks show from Heritage Park at 9 PM on Monday the 4th.
However the party really starts at 6 PM, with food booths, family activities and a performance by the country band, Lonestar.
Water Park Fireworks
In years past, both of the Las Vegas valley's water parks have had fireworks displays. That continues this year with the "Red White and Kaboom" fireworks display all weekend long.
Cowabunga Bay – the popular east-side Sin City waterpark in Henderson has fireworks shows starting on Friday July 1st and going to July 4th. There are specials, mermaids and other promotions until the actual show, which will start at 8:50 PM each night.
Tickets are $45 for each night.
On the opposite end of the valley, Cowabunga Canyon Summerlin also has fireworks.
Weather During the 4th of July in Las Vegas
The weather for July 4th is typically hot (go figure), with an average daily high of 103.5 degrees. While temps during the fireworks show at nighttime will be cooler course, those are partially offset by all of the buildings and bodies trapping heat on the Strip.
As of this July 4th, 2022 update, the forecast calls for a sunny day with a high of 102 degrees today (per Weather.com), and zero percent chance of rain.
Last year, the holiday saw a high of 102 degrees. At 11 PM at night, (when the fireworks go off), it was 93 degrees (per Weather.com).
Miscellaneous Fireworks Tidbits
In 2014, (the first year the Linq promenade was open), Caesars Entertainment (owners of the Linq) held a July 4th fireworks display at 9:30. Fireworks were set off behind the High Roller observation wheel.
In 2018, to celebrate their 20 year anniversary, the Las Vegas Philarmonic performed a "Star Spangled Spectacular" at the TPC Summerlin Gold Course, after which a fireworks display by Zambelli, ("The first family of fireworks"), took place.
Photos courtesy of InSapphoWeTrust, the Plaza Hotel & Casino, and Michael Cortina via Flickr).