Las Vegas Weather in April – Average Temperature and Highs and Lows
April weather is just about perfect in Las Vegas. The month competes with October for what many would describe as the city's best month, weather-wise, with an average daily high of 78.3 degrees and less than .15 inches of rain falling for the entire month on average.
But although the Strip typically sees very pleasant weather conditions, Las Vegas has also seen temperatures in April ranging from 99 degrees (most recently in 2020), to below freezing.
The month is also sort of odd in terms of gambling.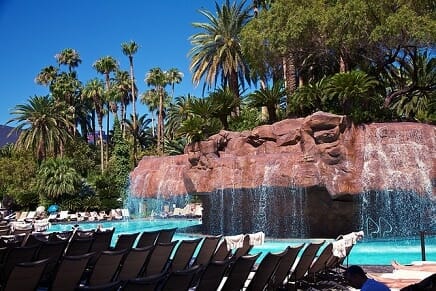 While there are several months where it is less busy in Las Vegas, in many years, April is the slowest month in terms of gaming revenue. ("Gaming" in Las Vegas means "Gambling" to the rest of us). Maybe all those visitors, (typically around 3.5 million visit Las Vegas in April), are spending all of their time enjoying the nice April weather in Sin City.
Average temperature in Las Vegas in April
And it IS very nice weather. Overall, the normal temperature in Las Vegas during April is 67.2 degrees Fahrenheit, or 19.55 degrees Celsius.
In the first part of April, the daily highs range in the low to mid-70 degree range. At the end of the month however, the normal daily highs have moved into the low 80's.
(Related: Las Vegas weather in March)
The normal April lows in Las Vegas range from 52 degrees on April 1st and 2nd, to 61 degrees on the 29th and 30th.
Some other weather facts about Las Vegas weather in April:
Las Vegas High and Low Temperatures in April
As mentioned previously, the typical daily high temperature in April is 78.3 degrees. From April 20th to the end of the month, the typical high for the day is eighty degrees or higher. Ninety degree days are not uncommon in April.
Hottest Temperature in April in Las Vegas
On seven different occasions, Sin City has come super-close to hitting the century mark. The warmest it has ever gotten in April in Las Vegas is 99 degrees (or 37.22 degrees Celsius).
This has happened seven times in April, usually towards the end of the month, and most recently on April 29th, 2020.
Coldest Temperatures in Las Vegas in April
The normal daily low for Vegas in April is a certainly-bearable 67.2 degrees Fahrenheit.
The lowest, coldest April temperature ever in Las Vegas however, is slightly chilly. The mercury has dipped to, or below the freezing mark six different times in April. The city's all time record low temperature is just one less, at 31 degrees. This happened most recently on April 2, 1975.
(Related: What is the all time record high temperature in Las Vegas history?)
Precipitation in Las Vegas in April
April is the third driest month of the year in Las Vegas, as the city receives just .15 inches of precipitation for the entire month, on average.
April 12th, 1965 was the day the most precipitation fell in Las Vegas, when the region received just under one inch of rain. (0.97 inches to be exact).
As for snow? Las Vegas has never received any measurable snow in the month of April.
Las Vegas Weather During Easter
Easter Sunday of course, can vary from late March to late April, depending on the calendar. However according to the National Weather Service (NWS), the average high temperature in Las Vegas on Easter Sunday is 76 degrees, while the average low is 52 degrees.
Other Las Vegas Weather and Visitor Facts for April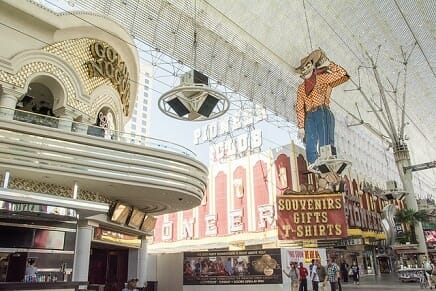 * The windiest April day in Las Vegas history was April 30, 1988, when the NWS recorded a wind gust of 49 M.P.H.
* Clark County (which includes all of Las Vegas), typically sees April as the slowest month in terms of gaming revenue. Oddly enough however, April is the 3rd busiest month for casinos in downtown Las Vegas).
* Of the roughly 151,000 hotel and motel rooms in all Las Vegas, 88.8% of them are occupied during April.
* In terms of hotel occupancy rates, the average hotel occupancy in all of Las Vegas (downtown, the Strip, the suburbs, etc.), in April in Las Vegas is 91.1%.
* Casinos on the Las Vegas Strip experienced a 90.3% occupancy rate (last year), while downtown hotels saw a rate of 82.3%.
* For some reason, April is very slow in Las Vegas in terms of big conventions. In fact, of the 50 largest conventions or trade shows held in Las Vegas each year, only one is held in April.
* That one big convention is the National Automobile Dealers Association Annual Winter National Convention, which sees 30,000 attendees.
(By Steve Beauregard. Photos courtesy of Michael Bentley and MsSaraKelly via Flickr).