Reno, NV New Year's Eve Fireworks Schedule for 2023
Updated December 31st, 2022
Between parties, ball drops, fireworks and over-the-top revelry, the self-described, "Biggest Little City in the World" is not little when it comes to celebrating New Year's Eve.
Reno, Nevada always has a New Year's Eve fireworks display that is often bigger than many cities in the world. In fact, in some years, the downtown Reno's NYE fireworks show has been even bigger than that of its cousin to the south, Las Vegas.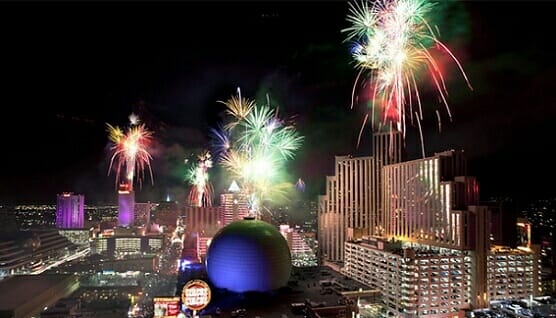 Each year in the past, Reno has hosted a New Year's Eve fireworks show on Virginia Street in the heart of downtown that lasts 10 to 15 minutes. Compare that to the 8 minute show that takes place at the same time on the Las Vegas Strip.
It's expected that, as is tradition, thousands of thousands of locals, along with tourists from California and all points throughout the world, will pack tightly upon Reno's main casino drag on Virginia Street to welcome in 2023 in grand style. (Virginia Street is closed off to traffic at 9 PM on NYE and is pedestrian only.)
The city of Reno, along with downtown casinos, (this year it's the Silver Legacy), typically join forces to produce a fantastic fireworks display visible from all points downtown, and throughout the city for that matter. In years past, the show cost over $75,000 to produce. Reno police estimates crowds between 10,000 to 15,000, per a story in the Reno Gazette Journal.
Reno NYE Fireworks Show
The show begins at midnight, of course. Per a Reno Gazette Journal article, by Mark Robison, the fireworks will by set off from the top of the Silver Legacy Casino Resort, right on Virginia Street. As the Reno/Tahoe Visitor's Bureau wrote last year, "As the clock strikes midnight in downtown Reno, revelers be treated to a spectacular fireworks show over Virginia Street and the Reno Arch."
The fireworks are synchronized to an array of hits from the past year.
Also in past years, radio station Alice 96.5 has played the fireworks' accompanying music at midnight. In past years, KRNV News 4, (Reno and Tahoe area's NBC affiliate), broadcast the fireworks display. Of course fireworks on TV can never come close to matching the awe-inspiring techno-color nighttime display seen live.
Where to watch the New Year's Eve Fireworks in Reno
Any spot on Virginia Street will offer a good vantage point for the fireworks.
However since the Silver Legacy is shooting off the fireworks, standing directly underneath the Silver Legacy may not provide a good a view as it does if you're a little south on Virginia Street (towards the arch).
The Silver Legacy is one of three ROW casinos: the Silver Legacy, The Eldorado Hotel Casino and Circus Circus Reno.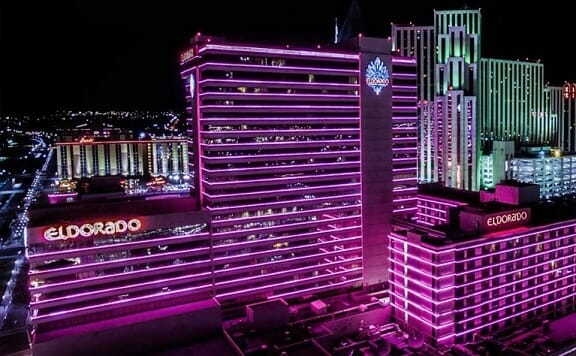 Reno New Year's Eve Parties 2023
The fireworks may last just 10 to 15 minutes, but you won't spend the last day of the year being bored.
Reno casinos go all-out with a variety of dining, drinking and entertainment options to help you make New Year's Eve 2022/2023 a night you won't forget. Or maybe you will forget it. Every casino has parties you can attend, some free, others with cover charges. Here are some at the larger properties in Reno:
Atlantis
Other than some special slot promotions, nothing has been announced. Last year, The Atlantis has several of its restaurants offering special NYE menus, such as the $55 Steak and Seafood Spectacular Champagne Dinner at Toucan Charlie's Buffet & Grille.
Grand Sierra Resort & Casino
LEX nightclub has a "Bowties and Bombshells" party to welcome in 2023. Tickets cost $25 before taxes and fees. The night before, Friday December 30th, Lil Jon performs.
Peppermill Reno
The Peppermill's Terrace Lounge hosts the band, Sang Matiz on NYE, from 8 PM to Midnight. You can expect, a "catchy, syncopated melodies with flamenco-styled finger picking."
NYE Parties at the ROW 2023
As they have done in previous years, Four different Circus Circus/Eldorado/Silver Legacy bars have special NYE parties. Each one has live DJs performing and each charges a cover charge (ranging from $30 to $45). However you purchase an all-access pass instead for $140, but only at the door on the 31st. Info here: ROW tickets NYE
The ROW's all access passes allows you to go into any (or all) of four New Year's Eve parties, and partake in their hosted premium bar from 10 PM to midnight.
The ROW All-Access Premium Pass for NYE
For $140, you can get a wristband that gets you entry into the following clubs and bars on New Year's Eve:
The Brew Brothers – Eldorado
El Jefe's Cantina – Circus Circus
NoVi – Eldorado
Rum Bullions – Silver Legacy
Tickets for this as of this update are $140 before taxes and fees, and again, are only available at the door.
If this year is like last time, your unlimited drinks here include Grey Goose, Jack Daniels, Patron, Crown Royal and the like.
Another ROW option isthe Aura Ultra Lounge at Silver Legacy Resort Casino. Cover charge for this party is only $16.45 as of this update. No open bar at this price of course, but it does include a glass of champagne at midnight.
Downtown Reno New Year's Eve Parties Without a Cover Charge
Want to celebrate NYE for free? Or at least without spending all your money just to get inside?
Try either Roxy's Bar and Lounge at the Eldorado, Bar Centro at the Eldorado, Silver Baron Lounge at the Silver Legacy Casino, or Cabaret at Circus Circus Reno.
Other NYE Specials on New Year's Eve in Reno
All the other casinos, both downtown and on the outskirts, all have New Year's Eve Specials. Most of the major casinos offer patrons (even those of you just on the casino floor), free party favors and a champagne toast.
The Nugget NYE
The Nugget, a casino in Sparks, has several different NYE events, including a dinner show in their Grand Ballroom featuring Motown singing Las Vegas headliers: Human Nature.
Tickets start at $95 before fees, and the dinner starts at 7 PM. Tickets and information from the Nugget here: NuggetCasinoResort.com
Also at the Nugget are the Australian BeeGees in the Celebrity Theater, both on December 30th, and 31st at 9 PM. Tickets start at $35.
Weather in Reno on New Year's Eve
Be sure to bundle up if visiting Reno for New Year's Eve, as it's typically pretty cold here on December 31st.
In fact, historically, the average high temperature in Reno on December 31st is just 44 degrees, while the average low is 24 degrees.
As of today's 12/31/22 morning update, the NYE forecast per Weather.com calls for a midnight temperature of 34 degrees, with an 40% chance of snow.
Reno New Years' Eve Shows & Concerts 2022/2023
The only NYE show announced so far is a special Christmas/holiday themed Cirque du Soleil type performance at the Grand Sierra Resort.
Titled, "A Christmas Rock Story" the show is, "Centered around an elf who receives a magic guitar for Christmas, this musical extravaganza features cirque acts, Santa's motorcycle daredevils, flying elf aerialists, extreme ice roller skaters, amazing music and zany characters."
A Christmas Rock Story runs every day from December 18th up to (and including) New Year's Eve. It takes place in the Grand Sierra Ballroom at 7 PM nightly.
The Eldorado Showroom has a Christmas Wonderland production, however it ends on Christmas Day.
(by Steve Beauregard. Photo courtesy of the Reno Sparks Convention and Visitors Authority and Eldorado Resorts)