Updated January 6th, 2021
Editor's Note: Once plans for the December 31st, 2021 downtown Reno NYE fireworks show are announced, we'll update this article accordingly. Until then, below is the article for prior years' new year's eve fireworks and parties.)
Between parties, ball drops, fireworks and over-the-top revelry, the self-described, "Biggest Little City in the World" is not little when it comes to celebrating New Year's Eve.
Reno, Nevada has a New Year's Eve fireworks display bigger than many cities in the world. In fact, last year's downtown Reno's NYE fireworks show was even bigger than that of its cousin to the south, Las Vegas.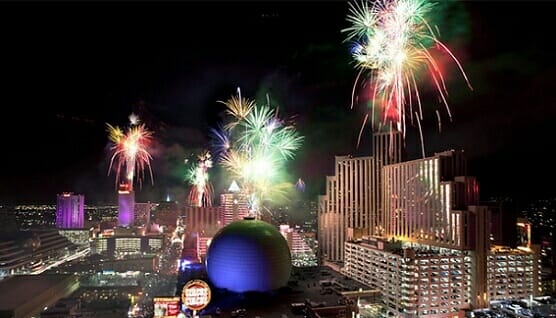 Each year, Reno hosts a New Year's Eve fireworks show on Virginia Street in the heart of downtown that lasts 13 minutes. Compare that to the 8 minute show that takes place at the same time on the Las Vegas Strip.
This Tuesday, December 31st, as is tradition, thousands of thousands of locals, along with tourists from California and all points throughout the world, pack tightly upon Reno's main casino drag on Virginia Street to welcome in the year in grand style. (Virginia Street is closed off to traffic at 9 PM on NYE and is pedestrian only.)
The city of Reno, along with downtown casinos, join forces to produce a fantastic fireworks display visible from all points downtown, and throughout the city for that matter. Last year's show cost $75,000 to produce. Reno police estimated last year's crowd at between 10,000 to 15,000, per a story in the Reno Gazette Journal.
Reno NYE Fireworks Show
The show will began at midnight, of course, and will have fireworks being shot off from the rooftops of three different Virginia Street downtown casinos: the Silver Legacy Resort & Casino, Circus Circus, as well as from the rooftop of Harrah's Reno, according to a story by Marcella Corona in the Reno Gazette Journal.
The fireworks are synchronized to an array of hits from 2019.
As in past years, radio station Alice 96.5 will play the fireworks' accompanying music at midnight. In past years, KRNV News 4, (Reno and Tahoe area's NBC affiliate), broadcast the fireworks display. Of course fireworks on TV can never come close to matching the awe-inspiring techno-color nighttime display seen live.
Where to watch the New Year's Eve Fireworks in Reno
Considering they're one of the casinos shooting off fireworks, the courtyard in front of Harrah's Reno is prime fireworks viewing.
Actually, any spot on Virginia Street will offer a good vantage point for the fireworks. However since the Silver Legacy and neighboring Circus Circus shoot off fireworks from two different levels, standing directly underneath the Silver Legacy doesn't provide a good a view as it does if you're a little south on Virginia Street (towards the arch).
Although the fireworks are shot off from just two different casinos, the show is sponsored by the city of Reno and four casinos: Harrah's Reno, the Silver Legacy, The Eldorado Hotel Casino and Circus Circus Reno.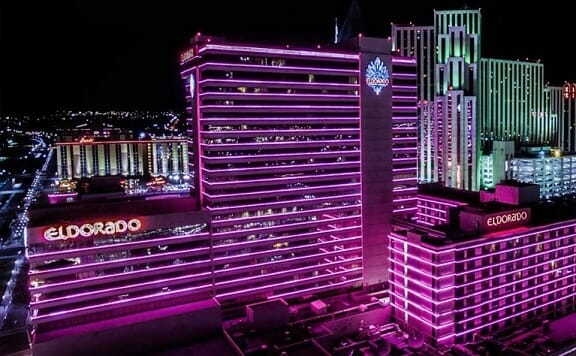 Reno New Year's Eve Parties
The fireworks may last just 13 minutes, but you won't spend the last day of 2019 being bored.
Reno casinos go all-out with a variety of dining, drinking and entertainment options to help you make New Year's Eve 2019/2020 a night you won't forget. Or maybe you will forget it.
Every casino has parties you can attend – for a price.
NYE Parties at the ROW
As they did last year, Five Circus Circus/Eldorado/Silver Legacy bars offer a deal where you'll have to pay a $25 cover charge for each bar. (Or purchase an all-access pass – more on that below).
In addition to the $25 cover, you can pay an additional $65 to have all-you-can drink. In other words, $90 gets you in the place with a three-hour open bar. The parties start at 9 PM on the 31st.
In addition, the Downtown Reno casinos have an all access passes that allows you to go into any (or all) of five New Year's Eve parties.
All-Access Premium Pass for NYE
For $120, you can get a wristband that gets you entry into the following clubs and bars on New Year's Eve:
Aura Ultra Lounge – Silver Legacy
The Brew Brothers – Eldorado
El Jefe's Cantina – Circus Circus
NoVi – Eldorado
Rum Bullions – Silver Legacy
In addition to the cover charge, your all access pass allows you to partake in each bar's hosted "premium bar" (i.e. open bar) from 9 PM to Midnight.
If this year is like last year, your unlimited drinks here include Grey Goose, Jack Daniels, Patron, Crown Royal and the like.
Downtown Reno New Year's Eve Parties Without a Cover Charge
Want to celebrate NYE for free? Or at least without spending all your money just to get inside?
Try either Roxy's Bar and Lounge, Bar Centro, or the Cin Cin Bar, all at the Eldorado
Drinx and the Silver Baron Lounge, both at the Silver Legacy Casino let you drink without paying a cover charge.
At the Circus Circus Reno, you can drink without a hefty cover charge at the Blast Bar, and the Village Bar.
Other NYE Specials on New Year's Eve in Reno
All the other casinos, both downtown and on the outskirts, all have New Year's Eve Specials. Most of the major casinos offer patrons (even those of you just on the casino floor), free party favors and a champagne toast.
Grand Sierra Resort & Casino
The Grand Sierra's "Roaring 20's" party is held at the Grand Ballroom. Tickets cost $88 after fees, and include cover, two drink tickets, and a champagne toast at midnight.
Also at the Grand Sierra, their LEX nightclub, has a "Bootleggers and Bustiers" party on the 31st. Tickets, with the open bar option, will cost you $90.25 after taxes and fees.
Peppermill Reno
The Peppermill's Capri Ballroom (on the 4th floor) is the setting for the resort's "Party in Pink" Flashback New Year's Eve Party. With a "Pretty in Pink" movie theme, this electric dance party runs from 9:30 PM to 2:30 AM. Tickets cost $70 each (after taxes and fees), and include 2 drinks each, as well as party favors. I believe there is also a champagne toast at midnight.
Weather in Reno on New Year's Eve
Be sure to bundle up if visiting Reno for New Year's Eve. While it won't be anywhere near as cold as New York City, it's typically pretty cold here on December 31st.
In fact, historically, the average high temperature in Reno on December 31st is just 44 degrees, while the average low is 24 degrees.
As of this writing, Weather.com's forecast for today shows an expected high of 45 degrees. At midnight, it is expected to be 35 degrees. There is just a 5% chance of moisture.
(by Steve Beauregard. Photo courtesy of the Reno Sparks Convention and Visitors Authority and Eldorado Resorts)