By Steve Beauregard
Whether you're staying on the Las Vegas Strip for just a couple of days, or a week-long convention, you owe it to yourself to experience some old school Vegas vibe by taking a trip downtown to Fremont Street.
While the Strip is nice, and clean, and safe, it's also becoming increasingly homogenous – where almost every resort is owned by either Caesars Entertainment or MGM Resorts and where the atmosphere in many casinos is the same.
This is not true in downtown Las Vegas, where Fremont Street offers variety, character, and has somehow been able to retain its dusty old school charm. (Go here to see what time the Fremont Street Experience Light Show starts)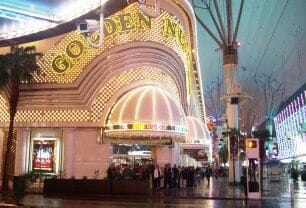 Depending on what part of the Strip you start from, downtown is not that far away. From the Wynn, for example, Fremont Street is a 5k run away, or 3.2 miles. From the Bellagio however, it's 4.4 miles, while a downtown trip from say, the MGM Grand would be nearly 5 and 1/2 miles.
The main route is simply staying on Las Vegas Boulevard as taking the street north puts you on the east end of Fremont Street. From the Stratosphere (the north end of the Strip), to downtown is 1.8 miles, and this stretch of pavement is an eclectic street of activity whose occupants range from a federal courthouse to a super Wal-Mart of adult bookstores.
Whether taking a bus, taxi, or driving, this colorful route has you passing by wedding chapels, such as the Chapel of the Flowers, the Little White Wedding Chapel, Mon Bel Ami and two, (yes two), Elvis themed wedding chapels. The street is also home to several adult bookstores, bail bonds shops, Olympic Gardens strip club, a United States Federal Courthouse, and the Gold and Silver Pawn Shop, made famous by the boys from "Pawn Stars."
Yet regardless of where you start, I really don't consider downtown Las Vegas really isn't within walking distance of the Strip. Not only because of the distance involved when dealing with the Las Vegas sun, but because it's not the safest route in Sin City.
I don't write about something I haven't experienced myself, but I can recommend that you do not walk the Strip-to-Downtown sidewalk route at night. Yes, there is almost always decent traffic on Las Vegas Boulevard, and many businesses, however it just gets a little too near to some sketchy downtown areas, along with being home to too many homeless people for me to suggest it's a safe walking path. Call me judgmental if you will, it's just that I'd have no problem with my wife walking alone from say, the Venetian to the Flamingo. I would never say the same about walking to or from the Strip to downtown Las Vegas.
Instead of walking, there are a couple of different buses that go from the Strip to downtown Las Vegas. These are affordable, convenient, and safe. You're two options are either the Deuce, or the SDX. Taking the Deuce from the Paris Las Vegas, for example, to Fremont Street would take you about 35 minutes, while taking the Deuce would be about a 40 minute trip.
Taxi from the Strip to downtown Fremont Street
My wife and I hailed a cab, and the prices aren't for the faint of heart. From the MGM Grand to Fremont Street, we paid almost $30 (that included tip). It does get you there much faster, as many taxi drivers hop on Interstate 15, so you'll have to decide if the financial bite is worth it.
Driving From the Strip to Downtown Las Vegas
The drive from your Strip hotel to Fremont Street will be between 2 to 6 miles, depending on where you start. While not the fastest route, the easiest way to remember is to stay on Las Vegas Boulevard the entire way, parking at say, the self-parking behind the Golden Nugget or the Four Queens self-parking garage.
*******
Fremont Street in downtown Las Vegas is a fun little, often-forgotten gem of a good time that brings to mind the Sin City days of old. While it's not real close to the Strip, it IS a worthwhile trip to experience the unique character of casinos and bars completely different than the mega resorts found on the Strip.